To add your comments,
NOTHING posted here is mine!
Internet Debris does not claim rights
to any of the photos or media content posted to the site.
No copyright infringement is intended.
Due to getting more of a life, from now until further notice, Internet Debris posts will be reduced
to 3 per week: Monday, Wednesday and Friday.
–

The Management
The Magnificent Shattered Lives
E

very night, I hope and pray A dream lover will come my way... For a generation those words evoke memories of a happier, more innocent time, when Bobby Darin electrified America and Sandra Dee was everybody's sweetheart. When they became husband and wife, the marriage looked like the picture-perfect culmination of an American dream. But was it?
I

n this intensely personal biography the son of Bobby Darin and Sandra Dee goes far beyond the ordinary celebrity bio, revealing the real story behind his parents' shining image - their troubled childhoods, up-and-down careers, brief marriage, and tumultuous lives together and apart.
B

obby

C

assotto was a manic, fast-talking street kid from New York who scratched and clawed his way into the music business. But his charm was fueled by an illness that he knew would shorten his life and the secret scandal of his true mother's identity.
A

lexsandra

Z

uck the sweet, wispy-thin teenage model from New Jersey who seemed to rise to fame without effort. But Sandra had her own dark secrets: a lifelong obsession with food and dieting, and sexual abuse at the hands of her stepfather. At sixteen she had never been kissed, and found herself in love with twenty-four-year-old Bobby Darin.
B

obby's career was still rising as he restlessly reinvented himself from a pop crooner to an acclaimed actor, music producer, and blockbuster nightclub performer. Twelve years later Bobby was dead, Sandy was beginning a life as a Hollywood shut-in, and America was changed forever.


N

ow the son and only child of Hollywood's golden young couple reveals the moving truth behind the myth of his gifted, troubled parents
–
from Darin's career battles, womanizing, and painful secret of his illegitimate birth to Sandra Dee's tortured fight with alcoholism, anorexia, and childhood demons of her own.
Written by Rona Barrett for MOTION PICTURE MAGAZINE
–
1961
A

t 8:30 one morning, the phone rang. Bobby Darin was on the other end. He had just gotten into town from Rome where he had completed Come September for Universal-International. He sounded more excited than I'd ever heard him in the many years we'd been friends.
"

W

ell, are you happy for me?" he cried.
"

H

appy about what?' I asked, and before he could answer I added, "I'm glad you called,
but why so early?"
"

Y

ou mean you don't know?"
"

K

now what?"
"

I

got engaged last night
–
to Sandy."



T

he receiver almost dropped from my hand. I knew I didn't have to ask who Sandy was. She was the beautiful Sandra Dee, who for the first time in her life, had fallen in love with none other than Bobby Darin, one of the most talented, but misunderstood young men in the entertainment industry. The big romance everyone thought was just "publicity" was for real.


N

o one believed me during the nine weeks Come September was shooting in Italy that Darin and Dee were real a thing. I tried to convince everyone that while on the surface the two seemed to be an incongruous pair, they really had much in common and would fall for each other like a ton of bricks.


S

andra's shy, unassuming, lady-like quality was everything Bobby was looking for in a woman. They were also the qualities
–
along with her champagne colored hair and big brown eyes
–
that Bobby's mother possessed.
M

rs. Cassotto had been everything to her son Walden Robert Cassotto
–
a young man who considered himself a kid from the wrong side of the tracks. His mother's death on February 12, 1959 left him with an emptiness no woman could fill. And then he met Sandy.


A

nd, while everyone imagined the darling of the cinema world, Sandra Dee, would fall in love with a typical ivy-leaguer, it was obvious to those who knew her well that it would be an "earthy" man who would be the first to conquer her heart.


I

t was this very quality that started their relationship off on the wrong foot. His arrogance, a word often used by the press to describe Bobby, made Sandra dislike him at first. But in true fairy-tale tradition, she fell in love with him. For the more she was with him, the more she realized that these publicity tags were nothing more than a facade and that underneath his slick surface was an extremely intelligent, humane, sincere and loving young man.


F

rom almost the very moment he met Sandy, Bobby fell hook, line and sinker. But in the back of his mind he wondered what chance a guy like himself had with a girl like Sandra Dee
–
the brightest young star in Hollywood.


B

ut if you know Bobby, you know determination and persistence are two traits he's never lost. The seemingly insurmountable odds against the romance, odds that would have discouraged many other young men, didn't stop him. He held fast. Eventually Mary Douvan, Sandra's mother, let go of her reins and their romance blossomed.


I

t wasn't, however, till the last week of their nine-week location in Rome that Sandra fell in love with Bobby.
"

W

hen I found out she loved me, it was one of the most beautiful things that ever happened to me. Yes, we discussed marriage in rather general terms, and we knew before I left for New York that we would become engaged. We didn't know exactly when, though. Time was the most important element. I had to go to California for business reasons and Sandy wanted to stay in New York a while before she went to the Coast to do Tammy Tell Me True. It was on the plane from Rome to New York that Bobby decided to take the big step.
"

W

hen I landed at Idlewild Airport," he went on, "I went immediately to some jeweler friends and got a ring for Sandra. I didn't know when I'd give it to her, or even if she'd really accept it or what. All I knew was that I loved her and that she just had to be the girl for me. Without her, life would be meaningless."


S

andy was due to arrive in New York on Sunday, November 20th, at 5:00 p.m. Bobby had to be in Los Angeles by 9:00 a.m. on Monday for a business appointment he couldn't postpone. That meant he had to take a midnight flight from New York several hours after Sandy got back.


H

e cabled Sandy in Rome before she boarded her plane and told her he'd meet her at the airport with a limousine. (And of course, the ring!) That way they'd have about five hours together before Bobby's plane departed.


W

hen Sandy arrived at Idlewild, neither she nor Bobby wanted to go back to New York City
–
not just yet! So Bobby asked the driver to take them for a long ride.
"

I

n the car," said Bobby, "I was as nervous as an expectant father. I was so excited, I forgot which finger the engagement ring went on." He kept staring at Sandy's hand. Finally, he brought up the subject of rings. Unaware of what was in store for her, Sandy held out both hands and casually said the left one gets the engagement ring. Bobby looked down at her left hand. On the third finger was a diamond and pearl ring her mother had given her.
"

I

wondered how in the devil I'd get the other ring off her finger and get mine on. So, I asked her if I could look at her ring."


A

t that moment, a thought flashed through Sandy's mind
–
perhaps he was going to keep the pearl ring so he could find out her ring size. But she figured she was wrong when he held her hand in his, and gently slipped the ring back on her finger. For almost two minutes Sandy said nothing. Finally, Bobby took his hand away from hers and it was only then that she saw the beautiful three-and a-half carat, emerald, cut diamond.
"

O

h, my God, oh, my God," gasped Sandy.


T

ears sprang from her eyes and Bobby kissed her tenderly. Back at the airport, when the initial shock was over, they giggled like two little children discovering life's secret-the secret of love.


C

areers -- the same careers that brought Bobby and Sandy together
–
brought an end to the happiest day of their lives. They kissed good-bye and the future Mrs. Darin drove off to New York City, and her mother
–
while Bobby flew to Hollywood.
"

I

'm the happiest guy in the whole world," Bobby said as he excitedly tried to fill me in on every detail when I saw him.
"

I

feel like a different person. So many things have happened to me, I just can't begin to tell you, Rona."
"

W

hen are you getting married?" I asked.
"

W

e haven't thought about it. Believe me, it was the biggest step I've ever taken just giving her the engagement ring. Now that that's done, we'll see when the other will happen."
"

W

ell, don't you have any idea?" I persisted.
"

N

o," he said very gently, when we decide to get married, we"ll just up and do it."
A

nd that's exactly how it happened! In a surprise ceremony, Bobby and Sandra were married at 3 o'clock in the morning, on December 1, at the home of Donny and Sheila Kirshner, in Elizabeth, New Jersey. They didn't plan it that way
–
but Bobby just looked at Sandy, and Sandy looked at Bobby and they decided it was silly to wait even one minute more!
D

on

K

rishner made a phone call to a close friend of his who is a judge, and who got out of bed in the middle of the night to marry them. Only a few friends were there: Don and Sheila, Dick Behrke and his wife Mickey, Ellen Lord (whose husband, comic Dick Lord, was away on tour) and Bobby's sister and brother-in-law. Right after the ceremony, the newlyweds were driven to the airport and boarded a jet and off they flew
–
to Los Angeles, and to their future, together!
Text via

BobbyDarin.com
Readable full-size image via

Charm and Poise
In Remembrance of Sandra Dee
S

andra

D

ee, the perky blonde famous for her lead role in the teen comedy Gidget and marriage to pop singer Bobby Darin, died Sunday February 20, 2005 in Los Angeles. She was 62.


B

orn Alexandra Zuck on April 23, 1942 (some sources say 1944) in Bayonne, New Jersey, her parents divorced shortly after her birth and her mother primed her for a career in show business. In fact, her mother constantly lied about Dee's age in order to give her an early start. When Dee entered second grade, at The Professional Children's School, a school whose flexible curriculum was conducive to child performers, she was only four years of age. Dee made her modeling debut in Girl Scouts Magazine, which enabled her to eventually sign with a modeling agency.


B

y age 12, Dee was working on television commercials, when she was discovered by producer Ross Hunter. He had seen the young actress and thought she was well suited for the big-screen, so he convinced Universal Studios to give Dee a contract. When she was signed to her first film, Sandra Dee was the name the studio gave her.


H

er film debut was in a more-modern interpretation of "Little Women" in Until They Sail (1957), as the youngest of four sisters. The young actress was then signed to two more films, cast in teen movies opposite John Saxon
–
the Vincent Minnelli directed romantic comedy, The Reluctant Debutante (1958) and the drama, The Restless Years (1958). Dee won a Golden Globe as Most Promising Newcomer later that year.
D

ee would experience a banner year in 1959, appearing in five different movies. The beach movie, Gidget, starred Deeas a young girl who discovers surfing and love during an adventurous summer. The movie was successful in making Dee an instant favorite of audiences everywhere. Dee would light up the screen in another sweet romance, opposite teen "hunk" Troy Donahue, A Summer Place. She also played the daughter of Lana Turner in director Douglas Sirk's Imitation of Life, a powerful remake of the1934 Claudette Colbert movie, centered on the trials and tribulations of race-relations and mother/daughter relationships. By the end of the year, Dee was on the minds of many a teenage boy.


H

owever, it was her romance in Italy, while shooting Come September (1961), which grabbed the most publicity. Most likely breaking few boys' hearts, she fell in love with one of her co-stars, teen singing icon Bobby Darin. After a one-month courtship, the couple married in Elizabeth, N.J., on December 1, 1960. The two later starred together in 1962's If a Man Answers and 1965's That Funny Feeling.


A

lthough Universal Pictures had successfully crafted Dee into the perfect teen queen, she only appeared in one film during 1960. Universal soon saw the departure of the ever-popular Debbie Reynolds from the Tammy film franchise and Dee was requested to take over the role as the cute Tammy Tyree. But Tammy Tell Me True (1961) and Tammy and the Doctor (1963) didn't fare all that well at the box-office.


D

ee was one of the top ten box-office draws during her heyday, yet she realized, ultimately, that she was not bringing the same crowds. there was a good chance sje would be dropped by Universal. "

I

thought they were my friends," she said in a 1965 interview with the AP, referring to her former bosses. "But I found out on the last picture that I was simply a piece of property to them. I begged them not to make me do it, but they insisted."

S

he found herself in A Man Could Get Killed (1966), a silly jewel caper starring James Garner. With her shaky marriage to Darin dampening her teen appeal, Dee was indeed dropped by Universal. Then, Darin and Dee went separate ways in March 1967. However, he remained the love of her life long after their divorce. Dee continued to work sporadically.
D

ee made an independent film Rosie! (1967), starring with Rosalind Russell, but her movie career was fading fast. In 1970, she starred with Dean Stockwell in a mediocre adaptation of H.P. Lovecraft's short story The Dunwich Horror before deciding to call it quits.


D

espite Dee's departure from film, she found it quite amusing that the 1978 movie Grease, with its song "Look at Me, I'm Sandra Dee," which poked fun at Dee's wholesome personality, aided in renewing her popularity among a new generation of moviegoers.


D

ee played her last film for the silver screen, in Lost (1983), but received little notoriety from critics and audiences.


D

ee's marriage to Darin was chronicled in Kevin Spacey's devoted biopic of Darin, Beyond the Sea (2004), in which she was played by Kate Bosworth.
- John L. Gibbon

Sandra Dee and Troy Donahue 1959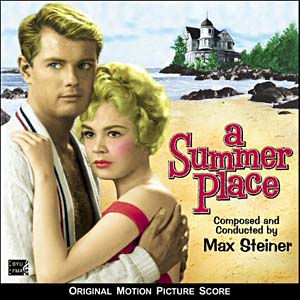 Sandra Dee and Troy Donahue 1999
To add your comments,
click on
here or below. It will take you to a stand-alone copy of this page. There, you will find the comments box, so feel free to let 'er rip.
If you like what you see here
- tell your friends!