To add your comments,

NOTHING posted here is mine!

Internet Debris does not claim rights

to any of the photos or media content posted to the site.

No copyright infringement is intended.

Are the Royals a Royal Pain

in the Ass

?
Oh, I do say, what's all this fuss then, what?
H

er full title is Her Majesty Elizabeth the Second, by the Grace of God, of Great Britain, Ireland and the British Dominions beyond the Seas Queen, Defender of the Faith.


O

f course, we just call her Ma'am. This utterly benign and inoffensive woman, a kindly yet stoic grandmother recognized by everyone everywhere, is under attack by her own countrymen. Why? Because they're just sick of her and her kind. That's why.


Y

ou'd think that we Americans would understand Britain's beef with the Queen. After all, nobody dethrones royals and then makes snotty comments about them better than we do. We invented the practice.


Y

et ironically, we have more respect and devotion for the House of Windsor than Britain does. The Brits trot out plenty of arguments for getting rid of their own royalty. They're a throwback. They don't represent brown people. They exemplify achievement without merit and they cost too much. Is it true?
What critics of the royal family may look like.
Let's review some pros and cons
of British Royalty:
Pros:
– They are living links to Britain's illustrious past.
– They drive a lot of tourism and charity.
– They represent the pride of Western Civilization and embody its achievements.
– They do all this without interfering in the political process.
Cons:
– They happen to be a pretty fucked up family.
– They cost a fortune.
– They represent a monarchical system that everyone hoped had died in WWI.
– The average Briton wouldn't feel much pain if the royals got the boot.
S
o, how do the scales look? Before you decide let's delve a little deeper in the lives of the Saxe-Coburg and Gotha (they changed their name to Windsor in WWI to avoid appearing too German).
Good evening to the Kingdom and all ships at sea. My sister Margaret is a doodyhead!
And so…
The Royal Cavalcade of Fail


Princess Margaret
T

he Queen's sister Princess Margaret decided to fall in love with a married man named Peter Townsend. While Henry VIII typically got away with shit like that, the Windsors don't have Henry's gravitas. As things started careening toward Margaret wrecking a family to marry this guy, the Queen put her foot down. It's just so…untoward.
T

he fickle public – who had originally agreed that Margaret should find a more suitable mate – suddenly flipped a 180 and decided that Margaret should marry whoever the fuck she wants to marry and that the Queen was a total bitch for standing in the way of love. You just can't win in the British court of public opinion.
M

argaret begged off the marriage and went on to marry and divorce some other schmuck and to later link herself with a couple of other dudes until the British public could no longer make any sense of the woman. A neurotic mess, she chain-smoked herself to death. Not exactly a storybook princess.
Prince Charles
Behold the man who wants to be a tampon.
I

really want to like Prince Charles. In 1989, he published A Vision of Britain, which stands as one of the most sensible and passionate defenses of humane civic design ever written. Chuck is smart and Chuck genuinely loves his realm and all its people.
A

s a child, he had every earthly need met except one: the warmth and security of a loving Mum. This failure has manifested itself in a man who has no idea how to behave around women. His first wife was totally hot, incredibly intelligent and adored by every human being on Earth. Only Charles and his weird family were immune to her charms. She was frozen out of the family and ended up splattered all over a Paris tunnel with her Arab boyfriend.
N

ot only did Charles hound Britain's beloved princess into the arms of an Egyptian playboy, he was also busy wooing his horse-faced mistress by saying he'd like to be her tampon. Now, I'm no prude. I'd like to be Leelee Sobieski's tampon! But I would never tell her that. It's so…gauche. And I'm not even a member of the royal family!
Charles, I tried to like you but you are a Class A fuck-up. Seriously.
I'll give up polo when those dirty foreigners give up communism!
T

he Queen's husband, Philip is a walking, talking caricature of what the British aristocracy once was. For that alone he has value as a living insight into history. Unapologetically racist and elitist, Philip realizes that he shouldn't say mean things, but by God sometimes these things just need saying, what?
I

admit a smirking admiration for this man. At 90, he's not long for this world and we'll be poorer when he leaves. Here's a few of his pearls:
T

o British students in China: "If you stay here much longer, you'll all be slitty-eyed!"
"

I

f you travel as much as we do, you appreciate the improvements in aircraft design of less noise and more comfort – provided you don't travel in something called economy class, which sounds ghastly."
"

I

f it has four legs and it's not a chair, if it's got two wings and it flies but is not an aeroplane and if it swims and it's not a submarine, the Cantonese will eat it."
T

o a group of Aborigine businessmen: "Do you still throw spears at each other?
O

f course, the Brits don't find this to be particularly cute when they have to fork over £200M a year so Philip can enjoy his private jets and non-Cantonese fine dining.
Prince Harry and Prince William
Dude, did you see her ASS?
B

efore Princess Diana died, she managed to produce two worthy heirs to the throne: Princes William and Harry. William is clearly his parents' son: he has his mother's good looks and his father's lousy hairline. But Harry? The ginger wunderkind? He's as related to Prince Charles as I am. Word has it he's the son of Princess Diana and her secret lover James Hewitt. Is it true?
Charles - Harry - Hewitt. I'll let you decide.
U

m, yeah. It is true. Just another bump on the road in the lives of the royal family. And despite the youthful frivolity of the boys, they do offer some hope that the Windsors can evolve. Diana (and Hewitt!) may have provided the fresh blood needed to move the monarchy to its next phase. But are the British people patient enough to wait for it?
Queen Elizabeth II
I

t's easy to lay the blame for this fucked-up family at Elizabeth's feet. But to a certain degree, she was behaving exactly how she was programmed to behave. She took the throne when she was 26, an age when most of us are still playing bass in a shitty garage band. And she was dead serious about making this thing work.
A

long the way, she was distanced from her family and her people. Sidelined but always needed, she walked the line she thought best to maintain the dignity of the office. "Duty first" and all that rot.
T

rouble is, she refused to change with the times. She provided an anachronism when her country cried out for a modern figure. There is not an evil bone in her body, but she is certainly rather cold. Someone should have told her that about 40 years ago Britons became weary of being diffident and cold and decided to be warmer and more outgoing like their American cousins.
S

he could have learned a lot from Buffy St. Marie. Where were you when we needed you, Buffy?
(She was busy getting high with her surfing instructor boyfriend.)
W

hile British sentiment towards the monarchy tends to go up and down, a
recent poll
shows only 30% of Britons actively desirous of abolishing the monarchy. Other polls put the number as low as 20%. Thus, despite much public fury and grandstanding about the waste of maintaining an irrelevant British monarchy, most Brits plan to keep calm and carry on.
I

agree with the 70%. Sure, the Queen is old and uncool. And yeah, Prince Charles is a massive douchebag. And sure, the whole damn family is a huge burden. But what republican Britons need to understand is that without the colonies and their industrial base, Britain no longer has very much to offer the world.
I

t costs an American like me about $4,ooo to visit Britain for 2 weeks. That's almost £78! And for that kind of money, I want to visit a land whose storied history still breathes.
I

've been to Vienna and visited the crypt of the Emperors. You can read the names and smell the dust. But it's all dead. The Holy Roman Empire, the Habsburgs, their reach and their quirks are lost forever, washed away in the blood of WWI. Are there any Habsburgs alive today? Yeah, but nobody knows and nobody cares.
B

ritain, you have a chance to keep the one thing that sets you apart: your storied history.
I

f you get rid of the monarchy, what do you have left? What are you going to feature on your tourism brochures?
Oi! What's wif da mingin' bitches, eh? Right slags, innit?
C

ertainly not the armies of chavs that infest every High Street from Inverness to Exeter. Get rid of the royals and this will become your most notable cultural touchstone. Think about it.
W

e certainly aren't getting all geared up to visit your godawful council estates. There is so much shitty architecture in the United States it makes no sense to spend thousands of dollars to see something even worse.
I

know this sounds like a Visit Britain tourism board ad campaign, but you Brits would be well-served to listen: the Royal Family may not be great, but they are all you have! We're all slowly crumbling as the global economic system tips us underwater. Do you want to be just another gray crumbling monolith or do you want to stand out from the rest? What shall be the mark of the United Kingdom: a nation that still salutes its living crown or a nation that punches pub-goers in the face with a sovereign ring?
Trooping the Colour
T

he custom of Trooping the Colour dates back to the time of Charles II in the 17th. Century when the Colours of a regiment were used as a rallying point in battle and were therefore trooped in front of the soldiers every day to make sure that every man could recognise those of his own regiment. In London, the Foot Guards used to do this as part of their daily Guard Mounting on Horse Guards and the ceremonial of the modern Trooping the Colour parade is along similar lines.
T
he first traceable mention of The Sovereign's Birthday being 'kept' by the Grenadier Guards is in 1748 and again, after George III became King in 1760, it was ordered that parades should mark the King's Birthday. From the accesssion of George IV they became, with a few exceptions and notably the two World Wars, an annual event.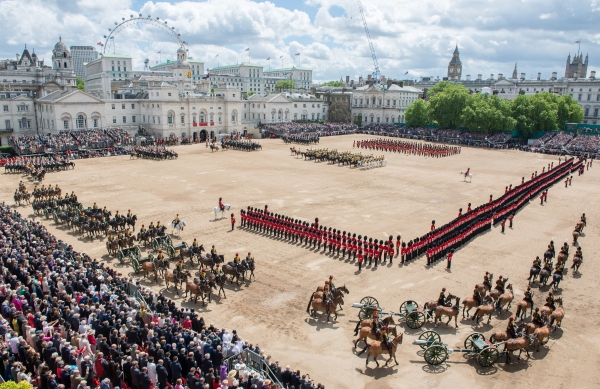 T

his impressive display of pageantry is now held on the occasion of the Queen's Official Birthday. It takes place in June each year to celebrate the official Birthday of the Sovereign and is carried out by her personal troops, the Household Division, on Horse Guards Parade, with the Queen herself attending and taking the salute.


S

ince 1987, The Queen has attended in a carriage rather than riding, which she did before that on 36 occasions, riding side-saddle and wearing the uniform of the regiment whose Colour was being trooped. The regiments take their turn for this honour in rotation as operational commitments permit.


O

ver 1400 officers and men are on parade, together with two hundred horses; over four hundred musicians from ten bands and corps of drums march and play as one. Some 113 words of command are given by the Officer in Command of the Parade. The parade route extends from Buckingham Palace along The Mall to Horse Guards Parade, Whitehall and back again.


P

recisely as the clock on the Horse Guards Building strikes eleven, the Royal Procession arrives and The Queen takes the Royal Salute. The parade begins with the Inspection, The Queen driving slowly down the ranks of all eight Guards and then past the Household Cavalry. After the event, the Royal Family gathers on the balcony of Buckingham Palace to watch an RAF flypast.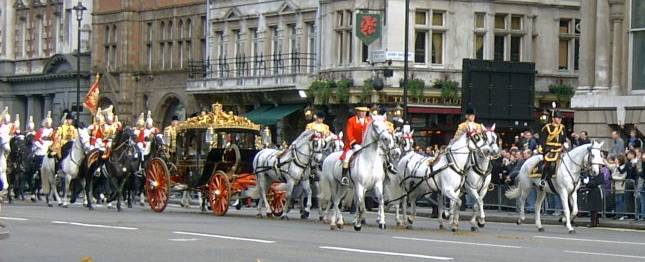 D

ating back to Medieval London, this spectacular ceremony marks the beginning of the new parliamentary year and features peers and bishops in traditional robes and a royal procession. The Yeomen of the Guard (Royal bodyguards since 1485) are responsible for searching the cellars of the Houses of Parliament before the Queen arrives. A duty undertaken ever since the infamous Gunpowder Plot of 1605 when Guy Fawkes tried to blow up Parliament.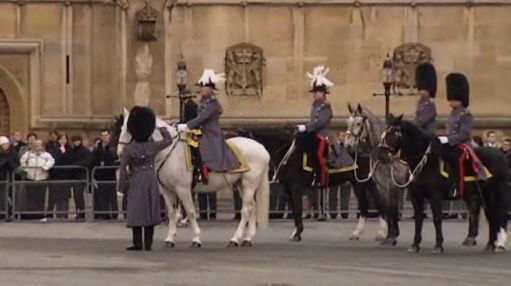 T

he Major General commanding The Household Division, who is in charge of the military side of the ceremony, precedes the Queen's procession on his charger to check that the route from Buckingham Palace to Westminster is secure. This is called "Proving the Route."
G

uards of Honour are mounted at Buckingham Palace by The Queen's Guard and also at the Palace of Westminster.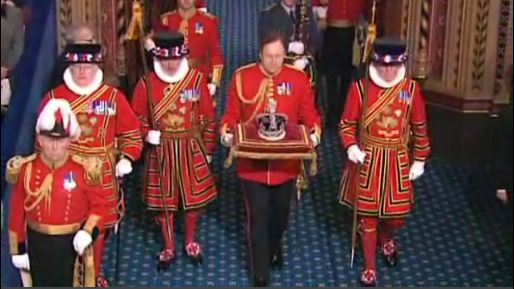 The Imperial State Crown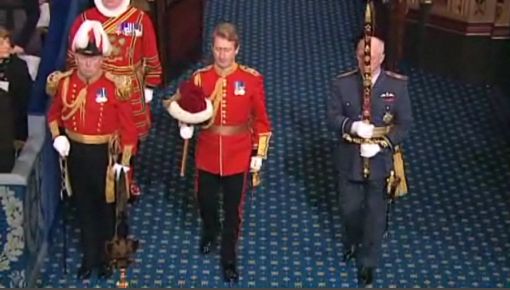 The Cap of Maintenance and The Sword of State
T

he Imperial State Crown carried by the Comptroller of the Lord Chamberlain's Office and the Cap of Maintenance borne by the Assistant Comptroller along with the Sword of State, having been collected from the Jewel House at the Tower of London, are taken to Buckingham Palace and then escorted to the House of Lords in a carriage procession using Queen Alexandra's State Coach escorted by a Regalia Escort of The Household Cavalry.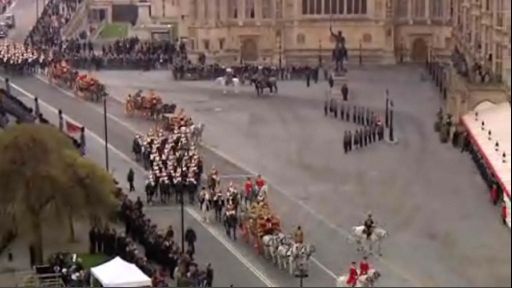 T

he Queen and The Duke of Edinburgh drive in procession in the Irish State Coach, escorted by a Sovereign's Escort of The Household Cavalry and are received at the Sovereign's Entrance by the Earl Marshal and the Lord Great Chamberlain.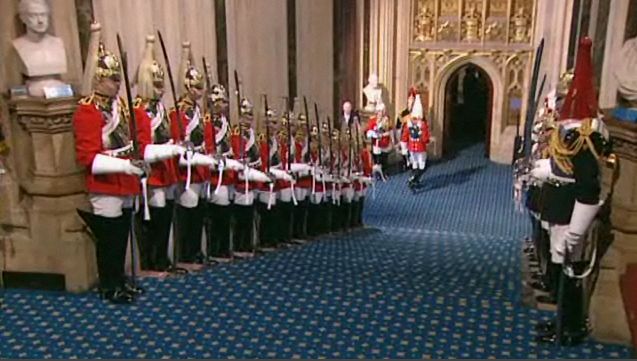 A

staircase party of The Household Cavalry is on duty at Victoria Tower, House of Lords. Her Majesty's Body Guard of the Honourable Corps of Gentlemen at Arms are on duty in the Prince's Chamber and The Queen's Body Guard of the Yeomen of the Guard are on duty in the Royal Gallery. The Queen's Bargemaster and Watermen are also on duty. The Ladies and Gentlemen of the Household and the Pages of Honour to The Queen are all in attendance at the Palace of Westminster.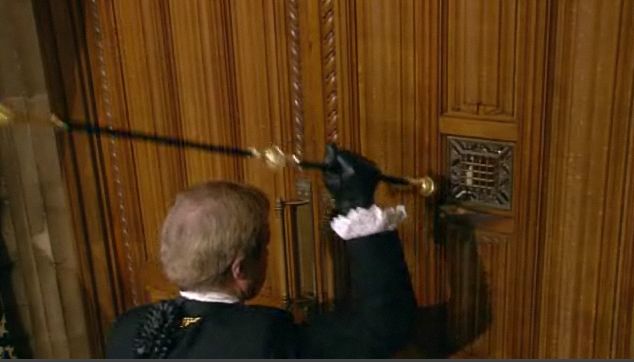 T

he televised ceremony takes place in the House of Lords. The proceedings begin with Black Rod (the Queen's Messenger) calling 250 members of the House of Commons to the House of Lords. The door is initially slammed in his face before being re-opened after he knocks three times using his rod. This reminds everyone that the Commons can exclude all but the Sovereign's messengers.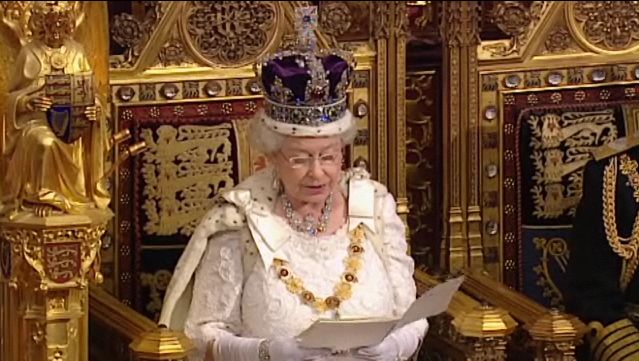 T

he Queen reads The Queen's Speech from the throne in the House of Lords. This speech is prepared by the government of the day and outlines the forthcoming policies for the year.The Queen and The Duke of Edinburgh then return to Buckingham Palace and are received by the Lord Chamberlain and the Vice-Chamberlain of the Household.
T

he procession starts at Buckingham Palace at 11am and follows the Mall to Horse Guards and Whitehall and then Parliament Square and returns at 12 noon. Royal Salutes are fired in Green Park by The King's Troop Royal Horse Artillery and from the Tower of London Saluting Battery by the Honourable Artillery Company.
T

he State Opening takes place in October or November each year. A good vantage point is St James's Park.
Spooooky Reading...

It makes a great gift for you!
To add your comments, click on
here or below. It will take you to a stand-alone copy of this page. There, you will find the comments box, so feel free to let 'er rip.
If you like what you see here - tell me - and tell your friends!