To add your comments,

NOTHING posted here is mine!

Internet Debris does not claim rights

to any of the photos or media content posted to the site.

No copyright infringement is intended.
Monroe

Wannabes
O

f all the women who desperately wanted to fill Marilyn Monroe's shoes, the first in line had to be Jayne Mansfield.
B

orn Vera Jayne Palmer, April 19, 1933, she was just three years old when her father, Herbert Palmer, a lawyer, died of a heart attack. After his death, her mother, Vera Palmer, worked as a school teacher until she remarried in 1939 and the new family moved to Dallas, Texas. Mansfield's desire to become an actress developed at an early age and she was determined to make her mark in Hollywood.

I

n 1950, at sixteen years old, Jayne married Paul Mansfield and by 17, she was a mother. She and Paul and baby Jayne Marie moved to California in early 1954.

There, Jayne set out with one goal: to become a movie star. She was a brunette at the time and upon meeting Milton Lewis, a Paramount executive, she was told she was wasting her "obvious talents" and should go blonde. She did. Though nothing panned out at Paramount, she did manage to film a featured role in an independent film called Female Jungle (1954). By 1955, Mansfield had

burst on the Hollywood scene like a rocket , establishing herself as one of the biggest sex symbols of the 1950s and 1960s. Jayne was second only to

Marilyn Monroe

in popularity and personified the era of the Blonde Bombshell.
K

nown for her love of children and animals, Jayne also possessed an IQ of 163 and was noted to be one of the friendliest, as well as publicity loving, stars of the era. She was one of the first sex symbols to ever own a sexual image as well as have a family. She was the first American motion picture actress to ever appear nude in a legitimate major motion picture. She is also known for having one of the most sensational hourglass figures ever - 40D-17-36.

A

fter "Female Jungle," Jayne became a contract player at Warner Brothers and landed a small but sexy role in the Jack Webb/Peggy Lee drama Pete Kelly's Blues (1955). By this time, Paul Mansfield had become tired of Jayne's ambition and went back to Texas and from here on out, it was just Jayne and Jayne Marie.
J

ayne filmed a very small role in the Alan Ladd drama Hell on Frisco Bay (1955). Finally, it seemed Jayne hit pay dirt when she filmed a featured and major role in the Edward G. Robinson courtroom drama Illegal (1955). Jayne stole the show and even got her name on a few marquees and received good notices as well. Yet, Warner Brothers at this time dropped her contract... something they would regret.
W

hile in Pennsylvania in the summer of 1955 to film another indie called The Burglar (1957), Jayne auditioned for a Broadway play called "Will Success Spoil Rock Hunter?" The role called for a beautiful blonde sex symbol and she fitted the bill. Jayne landed the role and overnight a media and public sensation was born. Jayne already proved herself to be a hot commodity and gained respect as a legitimate Broadway actress and a proven force. 20th Century Fox, also Marilyn Monroe's studio, bought the play just to get Jayne.
W

hile "Kiss Them For Me" was not the blockbuster it was meant to be, Jayne realized one of her dreams by working with Cary Grant who she adored as a child. Grant was quoted as saying of Jayne, "A potential Mae West." Jayne received the honor of being the most photographed woman of 1957 and while Monroe's career wavered slightly after the box office disappointment of The Prince and the Showgirl (1957), Jayne's prospered. She won a 1957 Golden Globe as Most Promising Female Newcomer.


J

ayne and Hargitay married in a lavish, huge wedding on January 13, 1958. A month later Jayne and Mickey performed in a spectacular Vegas show where Jayne received $25,000 per week, becoming one of the most highly paid entertainers of that era. She moved into a lavish pink mansion once owned by Rudy Vallee.
T
hat same year, Jayne filmed what many fans agree to be one of her shining moments, a western called
The Sheriff of Fractured Jaw
(1958). Jayne proved herself a capable comedic actress. She continued work at Fox though it seemed they were at a loss with what to do with this extravagant star. Brassy, wild, and in no need of a press agent, Fox just didn't know how to promote her as Jayne did plenty of promoting herself. They began loaning her out for which they received a quarter of a million dollars while Jayne only received her weekly salary.
J
ayne and Mickey had their first child together in 1958. In all, Jayne gave birth to 5 children: Jayne Marie born in 1950, Mickey Jr., born in 1958, Zoltan born in 1960,
Mariska
born in 1964 and Tony born in 1965. Tony was the offspring of Jayne's union with her third and final husband,
Matt Cimber
(Mickey and Jayne divorced in 1964).
A
fter the death of Marilyn Monroe, interest in the blonde bombshells began fading. But the public still loved Jayne. They came out in droves to see her plays, nightclub acts, store appearances, and even her home. Though her film career began to appear to have fallen out of favor in the mid-1960s, Jayne still commanded a weekly salary of $8,000-25,000 per week for her nightclub act and she traveled all over the world with it. She was as one fan puts it, "The Madonna of the 1960s."
E
n route to New Orleans for a talk show appearance, Jayne and then companion Sam Brody, driver Ronnie Harrison, and 3 of her children slammed into the back of a tractor trailer truck early in the morning of June 29, 1967. The children, asleep in the backseat of the car, survived while all three passengers up front, Jayne, Sam, and driver Ronnie were instantly killed. The impact of the crash so was severe that Jayne was virtually scalped. A picture of the accident site falsely created a rumor that Jayne had been decapitated when what appeared to be her head was laying on the dash. In fact, what was on the dash was one of many blonde wigs Jayne traveled with for public appearances.
Text via
IMDb
Jayne Mansfield Trivia
Was a brunette - like duh!
Only daughter of Vera Jeffrey and Herbert Palmer. She was of German and English descent.
Spoke five languages.
Was a classically trained pianist and violinist.
Claimed to have an IQ of 163, though she didn't have exceptional grades in school.
Measurements: 39 1/2-23-36 1/2 (smallest ever measured), 46D-18-36 (largest ever measured), 44D-18-36 (self-described), 46D-23-37 (after having children), 40D-21-35 1/2 (standard for the majority of her career), (Source: Celebrity Sleuth magazine).
She had a serious drinking problem most of her adult life.
Was with 20th Century-Fox from 1956-1962.
Was the first American actress to appear nude in a mainstream American film Promises! Promises! 1963.
Turned down the role of Ginger Grant in "Gilligan's Island" (1964).
Jayne was named the 2nd out of 100 top Playboy Playmates of all time according to Playboy Magazine.
Made Mr. Blackwell's Worst-Dressed List in 1961 with Marilyn Monroe, Sophia Loren and Shirley MacLaine. She also made the List again in 1964.
Her goal, as quoted in the book, Jayne Mansfield and the American Fifties: "To feel satisfied with myself; to know that I have arrived. To be liked. To be a big personality. The real stars are not actors or actresses. They're personalities. The quality of making everyone stop in their tracks is what I work at."
She was inducted into the Texas Film Hall of Fame in March 2008 in Austin, Texas. Her daughter, Mariska Hargitay, accepted the award.
Initally divorced
Mickey Hargitay
on 1 May 1963; she divorced him again in Juarez, Mexico. On 26 August 1964, the California Superior Court recognized the Mexican divorce pronouncement.
Was arrested for indecent exposure during her nightclub act in Burlington, Vermont in 1963.
Son

Zoltan Hargitay

was critically injured by a supposedly tame lion while visiting the Jungleland Zoo in Thousand Oaks, California, but made a full recovery. (December 1966).
Though her film career had waned in the mid to late 1960s, her nightclub act was huge, earning her $8,000-$17,000 weekly.

Contrary to popular belief, she was not decapitated in the car crash that killed her. Her death certificate, issued in New Orleans, Louisiana, lists "crushed skull with avulsion of cranium and brain" as the immediate cause of death; her other injuries included "closed fracture of right humerus" and "multiple lacerations of hands and lower extremities."
The late model Buick that Jayne was killed in was locked in a garage for decades, in the same shape it was in after the crash. The owner, who was a big fan, displayed it at various shows over the years, and it was sometimes billed as Jayne Mansfield's death car. The car was sold at auction in 1999 for $8000. Reportedly, the car still has the blood stains on the seats.
Her estate was valued at approximately $2,000,000 at the time of her death, equivalent to $13,324,000.00
She was portrayed by
Loni Anderson
in
The Jayne Mansfield Story
, a 1980 TV movie.
"Dramatic art in her opinion is knowing how to fill a sweater." -
Bette Davis
.
To establish yourself as an actress, you have to become well known. A girl just starting out, I would tell her to concentrate on acting, but she doesn't have to go around wearing blankets.
Stars were made to suffer, and I am a star.
I don't want to get involved in the racial situation at the expense of losing fans. I wouldn't say anything too strong but I do know that God created us equal and we're not living up to it.
If you're going to do something wrong, do it big, because the punishment is the same either way.
Carrying a baby is the most rewarding experience a woman can enjoy.
I will never be satisfied. Life is one constant search for betterment for me.
I don't particularly enjoy publicity, it seems to just follow me around.
I like being a pin-up girl, there's nothing wrong with it.
A lot of happiness can be brought to the mentally distraught by a little understanding.
We eat a lot of lean meat and fresh vegetables. You are what you eat, you know. When I'm 100 I'll still be doing pin-ups.
War is a foolish, childish, animalistic, unthinking, unintelligent way of trying to accomplish a purpose.
I want to earn my own way, I like having nice things but I've never accepted anything I haven't earned.
I'd like ten more babies and ten more chihuahuas and a few Academy

Award

s. Meanwhile, I enjoy being a sex symbol and making people happy.
No one wants to see or read about a dull subject. I don't consider myself a dull subject.
I've got the strangest build. It's big in the hips, small in the waist and I've got these enormous...shoulders.
Looks don't regulate a girl's body temperature, at least not this girl's body temperature. Intelligence in a man is the keynote and no girl in her right mind is going to go shopping for a man who's handsome and husky alone.
To function as an actress, I have to be in love. I have to have that incentive to work.
I didn't come to Hollywood to be the girl next door. I came to be a movie star.
My father was the only man I ever knew who really loved me unselfishly, who never used me for personal gain.
Once you were a starlet. Then you're a star. Can you be a starlet again?
If you want the best things in life you have to earn them for yourself.
I like the California style of living.
[Upon learning that 20th Century-Fox had lied to her about being considered for the lead in a film about the life of

Jean Harlow

] "I have thousands of letters here, from people all over the world, saying I am the perfect Harlow ...even naturally have her mannerisms of caressing my body and arms in that way. But no, they can't see me playing the dramatic side of Harlow's life."
I guess a lot of people think that a girl who shows her bosom and wears tight dresses can't be close to God. God has always been close to me. Only He knew what was in my heart.
I have always considered my career self and my personal self as two different and separate people. There's a Jayne Mansfield at home, a wife and devoted mother, and there's Jayne the sex symbol, which is my career. I have always kept them completely apart and separate.
Sex appeal is a wonderful, warm, womanly, healthy feeling. If you're a woman it's womanly, if you're not it's manly ...it comes only from inside ...it's an effervescent desire to enjoy life.
You know which title I like best? I like to be called mother.
Men are those creatures with two legs and eight hands.
If you're going to do something wrong, do it big, because the punishment is the same either way.
Nothing risque, nothing gained.
Mariska Hargitay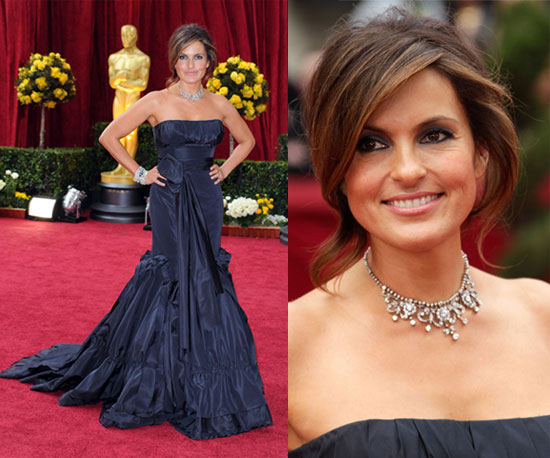 Image via

Fabsugar
M
ariska (Ma-rish-ka) Magdolna Hargitay, the only daughter of
Mickey Hargitay
and
Jayne Mansfield
was born on January 23, 1964, in Santa Monica, California.
She is the youngest of their three children. In June 1967, Mariska and her brothers Zoltan and Mickey Jr. were in the back seat of a car when it was involved in the fatal accident which killed her mother. The children escaped with minor injuries.
S
he majored in theater at UCLA but dropped out before graduating. Her first motion picture feature was the cult favorite,
Ghoulies
(1985), where she gave a memorable performance as Donna. She also appeared in
Leaving Las Vegas
(1995), credited as 'Hooker at the bar', and in
Lake Placid
(1999) as Myra Okubo. Her latest movie,
Plain Truth
(2004) (TV), in which she plays attorney Ellie Harrison aired in the fall of 2004.
E

stablished as a serious, hard-working actress, in 1999 she was cast in the role of Detective Olivia Benson in
"Law
&
Order: Special Victims Unit
," the first spin off from the excellent
"Law
&
Order"
(1990)
franchise.
H

argitay
speaks English, Hungarian, French and Italian. She married actor
Peter Hermann
on August 28, 2004. They divide their time between New York and Los Angeles.
Text via

IMDb
This is proof the apple doesn't fall far from the tree.
Gorgeous!
Image

via

Offline Buffy
To add your comments, click on




links to this post




here or below. It will take you to a stand-alone copy of this page. There, you will find the comments box, so feel free to let 'er rip.


If you like what you see here
- tell your friends!

Spooky Reading




What lies beneath...

- the next best beauty product...

This commercial isn't real,

neither are society's standards of beauty.