To add your comments,

Image via

45Cat.com

Sandy Selsie
T

he first time I heard
Sandy Selsie
sing was on the
Canadian
version of the "
To Tell the Truth
" quiz show. She stumped the celebrity panel and went on to perform her new single "
When Jimmy Comes Home
." There and then, I was a fan but in 1963, music performed by Canadian artists was not all that easy to find. Shortly after, my family emigrated to the United States and I forgot about Sandy Selsie. A lifetime later, with the arrival of the Internet and YouTube, I started looking for the obscure music from my past and one day I found "When Jimmy Comes Home."
S

oon, I began hunting down anything I could find recorded by this talented gal. Unfortunately, there was little or no information about the girl herself – not even on Wikipedia. Of course at this point, the girl is about 66 years old and her recording days are far behind her. Sandy is a nearly forgotten performer who never received the exposure she so much deserved. The talent virtually bubbled out of her as her last name suggested. Like Brenda Lee, she was little, perky and a bundle of dynamite. Finally, today, I located a tiny update on her and it goes like this...
I

have been collecting girl/girl group records since about the early Nineties. Only recently in the last couple of years, have I got around to looking into finding some Canadian girl singers records.
O

ne of the singers I recently found some information on is Sandy Selsie. Being in the Nation's Capital, I have access to the National Archives library, where I found an article on Sandy Selsie, in the local Richmond Hill newspaper, called The Liberal. The article appeared in 1963.
S

andy

S

elsie was from Richmond Hill Ontario, which is now a large suburb of Toronto. At the time it would have been a small town just outside Toronto. I was down in Richmond Hill last summer for a record convention.
T

he article mentions that Sandy Selsie's first record was released by Columbia in November 1961 (A Date With Loneliness). The Article mentions that she had signed a 5-year contract with Columbia. Back in 1963, she was a grade 10 student at Bayview High School in Richmond Hill, and only 15 years of age. Her father, Fred Selsie was her manager.
S

andy is quoted quite a number of times in this article. "I started out singing in the area shows. And gradually branched out to radio and television. I've had guest spots on the Country Hoedown television show as well as the Tommy Hunter Show."
H

er big break happened when the family took a vacation down to Nashville.
"

W

e were down there on our vacation. And we decided I should drop in to Columbia Studios for an audition." She was signed immediately. "I was really surprised, because it's unusual for a big recording studio to sign you just like that."
A

lso in the article she expressed an interest in pursuing a Major in Art.
I

was able to find a few more bits of information in the Toronto Star newspaper pages. I found an ad for a TV show, on August 25, 1962, called HI TIME, featuring Bobby Curtola in an all Canadian Talent show. It listed Pat Hervey, The Beau-Marks, Gordon Lightfoot, Sandy Selsie, and Ronn Metcalfe airing at 6.00 on CFTO Channel 9 in Toronto.
T

here was also an ad in April 1963 for personal appearances Sandy was making at the Sayvette City Record Bar on May 3rd and 4th 1963.
O

ther top charting songs by Sandy Selsie are: "A Date with Lonliness" 1962,
Pat Hervey had a little better luck than Sandy Selsie in the Canadian show-biz scene of the early 1960s and continues to perform in the Vancouver area...
At 5'3, Pat Hervey could belt out a tune with a similar style to Brenda Lee and was one of Canada's successful early female singers of the '60s. She grew up in Toronto, first singing in public when she was 9 in a high school choir and with a girlfriend who played guitar at social dances and parties. Toronto DJ Al Boliska heard her at an amateur Rock & Roll show and put her in touch with CBC Television. The station signed her and she appeared regularly on their "Country Hoedown", "While We're Young", and "Holiday Ranch" shows.
Art Snider was musical director for another TV production "Club Six", and suggested she make some recordings for his Chateau label. In the Summer of 1962 she had her first hit with "Mr. Heartache". Snider held the sessions in Nashville & Chet Atkins produced 4 tracks for her, resulting in Pat being signed by RCA Victor Canada. Atkins produced her entire first LP but it didn't contain her hit songs. "Tears of Misery" stayed on the charts for nearly 3 months, followed by "Walking In Bonnie's Footsteps." She later became the featured singer on the Tommy Hunter Show (a popular country / variety show in Canada for many years). She won a Top Country Female Award in 1964 then made a move to Stan Klees' Red Leaf label.
Nothing seemed to make an impression on the new label, and she moved to Vancouver in 1969 and "retired" from the music business, aged 22. This proved to be a short hiatus. She had her own Summer television show in 1970 and recorded another album Peaceful in 1971 on the CBC/RCA Camden label.
She is married to renowned Canadian jazz guitarist Oliver Gannon and they reside in British Columbia, where they have a 4 piece group and perform as The Oliver Gannon/Patty Hervey Quartet. She has since focused her career on jazz, singing and playing bass in Vancouver's best jazz venues, proving to be a vocalist & musician capable of any genre and creating a lifetime of great music!
Lesley Gore
hit the music scene at 17 years of age in 1963 with the teen anthem
"
It's My Party
." Born in Brooklyn (Kings County), New York, USA, she was discovered at a party by legendary producer
Quincy Jones
, who signed her to Mercury Records and produced "It's My Party." More hits followed: "
Judy's Turn to Cry
", "
She's a Fool
", "
That's the Way Boys Are
", and the surprisingly (for the times) feminist-oriented "
You Don't Own Me
."
She branched out from recording and began appearing on stage in summer stock, and putting in appearances in movies and television shows. In 1983, she was nominated for an Academy
Award
with her brother
Michael Gore
, for Best Song for the film
Fame
(1980).
She still tours and records, in addition to appearing in summer stock productions. "It's My Party" spent two weeks at #1 on Billboard's "Hot 100" chart and three weeks on its R&B chart (USA) in June 1963. Gore introduced her last major hit, "

California Nights

", on an episode of the TV series

"Batman"

(1966).

Re-blogged from IMDb
For more about Lesley Gore, click here.
Connie Stevens
For more about

Connie Stevens

, click here.
Linda Scott
(born
Linda Joy Sampson
, June 1, 1945,
Queens
,
New York
) is a former
pop singer
who was active in the early to mid 1960s. Her biggest
hit
was the 1961 million-selling
single
, "
I've Told Every Little Star
.
"
She went on to place twelve
songs
on the
charts
over the next four years, the last being "Who's Been Sleeping In My Bed," which was one of the first collaborations between the
songwriting
team of
Hal David
and
Burt Bacharach
.
Scott's popularity went into decline with the arrival of The Beatles on the music scene, she shifted to television

in 1965, becoming the co-host with singer Steve Alaimo, on the program Where The Action Is. She continued recording throughout the 60's but had little success commercially.

However interest in her pop music was revived when

"I've Told Every Little Star" was included in director David Lynch's bizarrely moody 2001 film, Mulholland Drive.
For more about

Linda Scott

, click here.
Little Peggy March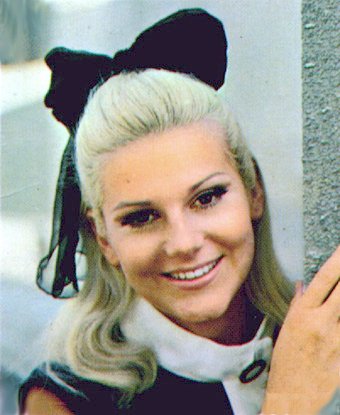 Peggy March
(born
Margaret Annemarie Battavio
, March 8, 1948,
was given the recording name Little Peggy March because she was only 4 ft 9 in (1.45 m) tall and was born in the month of March.
She is primarily remembered for her 1963 million-selling song "I Will Follow Him." The recording
soared to number one on the U.S. charts.
when March was only 14 years old. This made her
the youngest female artist with a number one hit, a record still standing in the
Billboard Hot 100
.
"I Will Follow Him" also took the number one spot in
Australia
,
New Zealand
,
South Africa
,
Japan
, and
Scandinavia
.
Although she is mostly remembered as a one-hit wonder, her singles "I Wish I Were a Princess" and "Hello Heartache, Goodbye Love" made the Top 30 in the United States, with the latter also reaching #29 on the UK Singles Charts.
In all ,she recorded 18 singles for RCA between 1964 and 1971 as well as several albums. However, none ever charted well in the United States.
She began making a strong presence in the European and Asian music markets and moved to Germany in 1969 where her commercial success continued through much of the 1970s. Is it just me or does Li'l Peg look a lot like Heather Morris (Brittany) from Glee?
For more about

Peggy March

, click here.
Barbara Chandler
Barbara Chandler was one of many girl singers who recorded the girl group classic
"It Hurts to be Sixteen." Barbara was another one-hit-wonder gal who recorded for Kapp Records. However, she had a busy career as a background singer. Very little else is known about her other than she married a record producer and lived happily ever after.
Robin Ward
Robin Ward wasn't even born yet when her one-hit wonder recording "Wonderful Summer" made the charts. Truth be known the real Robin Ward never recorded a thing. Jackie Ward, a studio session singer, was called in to do a demo and the result was so amazing, the producers decided to release it as-is instead of shopping it around to an established singer. With with some vocal tweaking and the addition of beach sound effects, Jackie became Robin. Ward was pregnant at the time and had selected the name Robin for her baby and thus Robin Ward, the singer was created.
Despite the huge success of "Wonderful Summer" and recording five more singles for Dot, none of the records recaptured her initial success. This, however, did not deter Ward from pursuing a career in music. While "Robin Ward" was disappearing from the record charts, Jackie Ward's session singing career was becoming quite lucrative. In the early to mid 1960s she was one of the stable of singers for The Red Skelton Show, The Danny Kaye Show, and later The Carol Burnett Show. For much of the second half of the decade, Jackie was a member of the Ray Conniff Singers, an ensemble that is most remembered for their #10 hit, "Somewhere My Love", from the motion picture "Doctor Zhivago", in 1966. She also kept extremely busy performing backup singing for dozens of major recording artists, including Nat "King" Cole, Bing Crosby, Frank Sinatra, Barbra Streisand, Gordon Lightfoot, The Carpenters, Cass Elliot, and Joan Baez.
For more about

Jacqueline McDonnell

Ward, click here.
The 1962 Buick Electra 225 4-door Hardtop
I

n just a scant five years, the full-sized Buick went from stodgy to flamboyant to elegant. The new 1958 offering was boxy, bloated and chrome laden. Fortunately it was dropped in favour of a body sharing program that ran across the board for all

General Motors

marques from Cadillac to Chevrolet.


T

he all new 1959 GM models were airy, flashy and big. Longer, lower, wider, they had more glass area that curved fore and aft into the roof line. They were light years beyond their counterparts of the previous year. For all 1960 GM models, including Buick, styling was toned down a notch, which really needed to be done. In most cases, sharp leading edges were rounded, producing a "softer" perception. For 1961 GM downsized its entire product line with pleasing results. The '61s and 62s were trim – well, by 1960s standards – nimble and classy. However, they still weighed in at over two tons!


T

he 1961-62 Electra 225 & Invicta 2-Doors are aptly described are the most underappreciated big Buicks by collectors today. The standard Electra was canceled for '62, with the Electra 225 going it alone at the top of the heap. And, the Invicta was supplanted by the new Wildcat line as the "performance Buick." Perhaps people just liked the name better.


W

hen I finished college, I bought a "previously owned" 1962 Buick Electra 225 six window four-door hardtop for $500.00 ($3,185.00 in 2011 dollars). It had power everything – power steering, seats, windows, antenna, electric seat warmer, air conditioning, automatic light dimmers, a wonderbar radio and green tinted windows. It was a dream machine and it could pass anything but a gas station. It was the closest thing to a stretch limo I'll ever own. The 225 got its name from the number of inches in its length. That meant it was 18' 9" (6.3 meters) long!


A

s time went on and the 1970s petro-crunch descended, the Electra was eventually traded off for something more practical. Well actually, it was a brand new Toyota Celica coupe painted a gorgeous teal. Be that as it may, the Buick will always be my girl from 1962 and she is fondly remembered while the Toyota became just another set of wheels in a long succession of cars.
For more about the Buick Electra click here.
To add your comments, click on
here or below. It will take you to a stand-alone copy of this page. There, you will find the comments box, so feel free to let 'er rip.