Canadian Catholic school
bans rainbow Colours
Re-blogged from About.com Guide
A Sissy Experiment gone wrong
In 2003, a 38-year-old man named Kirk Murphy committed suicide and in his sister's search for answers she discovered that he wasn't as trouble-free as she thought. At the age of 5, her brother, Kirk, was sent to government-funded program to correct his sissy behavior.
German Catholic doctors offer gay cure
A Catholic doctor's association in Germany says there's a healthy, homeopathic way to cure homosexuality.
Posted: Jan 24, 2008 re-blogged from ieet.org http://ieet.org/index.php/IEET/more/xiangayhot
(Hot tip to tbogg) Dr. Paul Cameron, founder of the Christian Right's Family Research Institute and ISIS, the Institute for the Scientific Investigation of Sexuality:
"Untrammeled homosexuality can take over and destroy a social system," says Cameron. "If you isolate sexuality as something solely for one's own personal amusement, and all you want is the most satisfying orgasm you can get - and that is what homosexuality seems to be - then homosexuality seems too powerful to resist. The

evidence is that men do a better job on men and women on women, if all you are looking for is orgasm."

So powerful is the allure of gays, Cameron believes, that if society approves of gay people, more and more heterosexuals will be inexorably drawn into homosexuality. "I'm convinced that lesbians are particularly good seducers," says Cameron. "People in homosexuality are incredibly evangelical," he adds, sounding evangelical himself. "It's pure sexuality. It's almost like pure heroin. It's such a rush. They are committed in almost a religious way. And they'll take enormous risks, do anything."

He says that for married men and women, gay sex would be irresistible. "Marital sex tends toward the boring end," he points out. "Generally, it doesn't deliver the kind of sheer sexual pleasure that homosexual sex does" So, Cameron believes, within a few generations homosexuality would be come the dominant form of sexual behavior.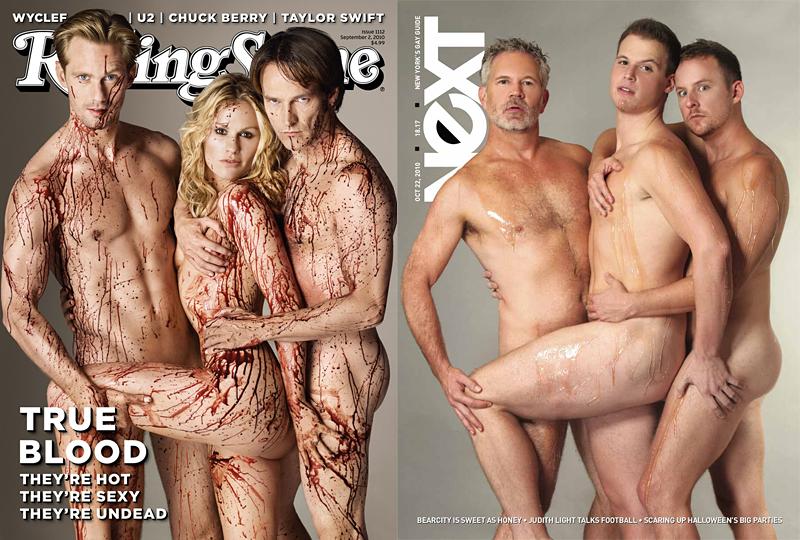 Dubya in a 3-way
I don't know about her, but Tab has licked a few poles in his time.
To add your comments click on

Links to this post
below which will take you to a stand-alone copy of this page. At the bottom, there is a comments box, so feel free to let 'er rip. This is the best I can do until I figure out how to do it the right way.
– Nealbo