~~~~~~~~~~~~~~~~~~~~~~~~~~~~~~~~~~~~~~~~~~~~~~~~~~~~~~~~~~~~~~~~~~~~~~~~~~~~~~~~~~~~~~
Walmart People...
Walmart - where gays are extra flamboyant!
Garters are obviously back!
I honestly did not know Tony the Tiger shopped at WalMart.
I'm sure they're a very happy couple.
~~~~~~~~~~~~~~~~~~~~~~~~~~~~~~~
Now, does the word
Cretan
come to mind?
Really, what's left to say?
Bonnie and Clyde
Bonnie Parker (October 1, 1910 – May 23, 1934) and Clyde Barrow (March 24, 1909 – May 23, 1934) were well known outlaws, robbers and criminals who, with their gang, travelled the Central United States during the Great Depression. Their exploits captured the attention of the American public during what is sometimes referred to as the "public enemy era" between 1931 and 1934. Though known today for his dozen-or-so bank robberies, Barrow in fact preferred to rob small stores or rural gas stations. The gang is believed to have killed at least nine police officers and committed several civilian murders. They were eventually ambushed and killed in Louisiana by law officers. Their reputation was cemented forever in American pop folklore by Arthur Penn's 1967 film Bonnie and Clyde.
Believed at the time to be a full participant in the gang's crimes, Parker's role has since been a source of controversy. While gang members W. D. Jones and Ralph Fults said they never saw her fire a gun and described her role as logistical, Jones also told investigators that she had fired a pistol at officers "two or three times" when he was deposed under arrest in 1933.
By 1968, his recollection was that "during the five big gun battles I was with them, she never fired a gun. But I'll say she was a hell of a loader." Youngest Barrow sister Marie made the same claim: "Bonnie never fired a shot. She just followed my brother no matter where he went." Parker's reputation as a cigar-smoking gun moll grew out of a gag snapshot found by police abandoned at a hideout, released to the press, and published in newspapers, magazines and newsreels nationwide; while she did chain-smoke Camel cigarettes, she was not a cigar smoker.
Author Jeff Guinn, in his 2009 book Go Down Together: The True, Untold Story of Bonnie and Clyde, explains that it was these very photos that put the outlaws on the media map and launched their legend: "John Dillinger had matinee-idol good looks and Pretty Boy Floyd had the best possible nickname, but the Joplin photos introduced new criminal superstars with the most titillating trademark of all — illicit sex. Clyde Barrow and Bonnie Parker were young and unmarried. They undoubtedly slept together — after all, the girl smoked cigars... Without Bonnie, the media outside Texas might have dismissed Clyde as a gun-toting punk, if it ever considered him at all. With her sassy photographs, Bonnie supplied the sex-appeal, the oomph, that allowed the two of them to transcend the small-scale thefts and needless killings that actually comprised their criminal careers."
On May 21, 1934, the four posse members from Texas were in Shreveport, Louisiana, when they learned that Barrow and Parker were to go to Bienville Parish that evening with Henry Methvin. Barrow had designated the residence of Methvin's parents as a rendezvous in case they were later separated and indeed Methvin did get separated from the pair in Shreveport. The full posse, consisting of Captain Hamer, Dallas County Sheriff's Deputies Bob Alcorn and Ted Hinton (both of whom knew Barrow and Parker by sight), former Texas Ranger B.M. "Manny" Gault, Bienville Parish Sheriff Henderson Jordan, and his deputy Prentiss Oakley, set up an ambush at the rendezvous point along Louisiana State Highway 154 south of Gibsland toward Sailes. Hinton's account has the group in place by 9:00 p.m. on the 21st and waiting through the whole next day (May 22) with no sign of the outlaw couple, but other accounts have them setting up on the evening of the 22nd.
At approximately 9:15 a.m. on May 23, the posse, concealed in the bushes and almost ready to concede defeat, heard Barrow's stolen Ford V8 approaching at a high rate of speed. The posse's official report had Barrow stopping to speak with Henry Methvin's father, planted there with his truck that morning to distract him and force him into the lane closer to the posse. The lawmen then opened fire, killing Barrow and Parker while shooting a combined total of approximately 130 rounds.
All accounts of the ambush, including his own, agree that Oakley fired first, and probably before any order was given to do so. Barrow was killed instantly by Oakley's initial head shot, but Parker had a moment to reflect; Hinton reported hearing her scream as she realized Barrow was dead before the shooting at her began in earnest. The officers emptied the specially-ordered automatic rifles, as well as other rifles, shotguns and pistols at the car, and any one of many wounds would have been fatal to either of the fugitives. According to statements
made by Ted Hinton and Bob Alcorn:
"Each of us six officers had a shotgun and an automatic rifle and pistols. We opened fire with the automatic rifles. They were emptied before the car got even with us. Then we used shotguns ... There was smoke coming from the car, and it looked like it was on fire. After shooting the shotguns, we emptied the pistols at the car, which had passed us and ran into a ditch about 50 yards on down the road. It almost turned over. We kept shooting at the car even after it stopped. We weren't taking any chances."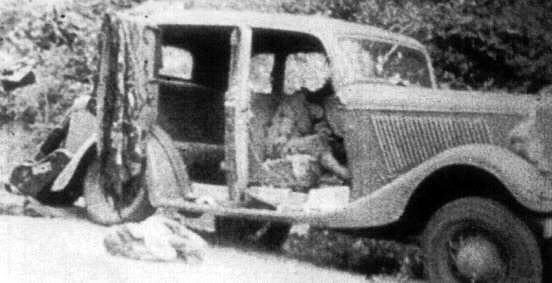 Bonnie and Clyde wished to be buried side by side, but the Parker family would not allow it. Mrs. Parker had wanted to grant her daughter's final wish, which was to be brought home, but the mobs surrounding the Parker house made that impossible. Over 20,000 people turned out for Bonnie Parker's funeral, making it difficult for her family to reach the grave site. The following words are inscribed on her headstone:
As the flowers are all made sweeter by the sunshine and the dew,
So this old world is made brighter by the lives of folks like you.
Re-blogged from
Poe Forward's Poe Blog

In 1968, it was a #1 hit in the United Kingdom,
and a #7 hit in the United States.
The other Bonnie & Clyde
(above)
appear daily in my yard.
The Old Cowboy at Starbucks
An old cowboy sat down at the Starbucks and ordered a cup of coffee. As he sat sipping his coffee, a young woman sat down next to him. She turned to the cowboy and asked, "Are you a real cowboy?"
He replied, "Well, I've spent my whole life breaking colts, working cows, going to rodeos, fixing fences, pulling calves, bailing hay, doctoring calves, cleaning my barn, fixing flats, working on tractors, and feeding my dogs, so I guess I am a cowboy."
She said, "I'm a lesbian. I spend my whole day thinking about women. As soon as I get up in the morning, I think about women. When I shower, I think about women. When I watch TV, I think about women. I even think about women when I eat. It seems that everything makes me think of women."
The two sat sipping in silence. A little while later, a man sat down on the other side of the old
cowboy and asked, "Are you a real cowboy?"
He replied, "I always thought I was, but I just found out that I'm a lesbian!"
A Cowboy Named Fred...
A drunken cowboy lay sprawled across three entire seats in the posh Amarillo Theatre. When the usher came by and noticed this, he whispered to the cowboy, "Sorry, sir, but you're only allowed one seat."
The cowboy groaned but didn't budge. The usher became more impatient: "Sir, if you don't get up from there I'm going to have to call the manager."
Once again, the cowboy just groaned. The usher marched briskly back up the aisle, and in a moment he returned with the manager. Together the two of them tried repeatedly to move the cowboy, but with no success.
Finally they summoned the police. The Texas Ranger surveyed the situation briefly then asked, "All right buddy what's your name?"
"Fred," the cowboy moaned.
''Where ya from, Fred?" asked the Ranger.

He clenched his teeth and with terrible pain in his voice, Fred replied without moving a muscle, "...the balcony!"
The Cowboy and the Dentist
A Texas cowboy went to the dentist with a toothache. After an exam, the dentist told the cowboy he had a tooth that had to come out.
"I'm going to give you a shot of Novocain," the dentist explained, "and I'll be back in just a few minutes."
The old cowboy grabbed the doc's arm and said, "No way! I hate needles and I ain't havin' no shot!"
The dentist said, "That's okay, we'll just go with gas instead."
The cowboy replied, "Gas makes me sick. I ain't havin' no gas neither."
Without saying a word, the dentist turned and left the room for a minute and when he came back, he handed the cowboy a glass of water and said "Here take this pill."
The cowboy looked at the pill and asked, "What is it?"
The dentist replied, "It's Viagra."
The old cowboy looked surprised and asked, "Will that kill the pain?"
"No," replied the dentist, "but it'll give you something to hang on to while I pull that tooth."
A Tough Old Cowboy
A tough old cowboy from Dillion , Montana, counselled his grandson that if he wanted to live a long life, the secret was to sprinkle a pinch of gun powder on his oatmeal every morning. The grandson did this religiously, his entire life. When he died, at the age of 103, he left behind 14 children, 30 grandchildren, 45 great-grandchildren, 25 great-great-grandchildren, and a 5 meter hole where the crematorium used to be!
Okay, so real cowboys don't look like this
but, hey, it's my blog!
Saloon Gals with some geek in the middle. Nelson Sno'fest, 1986.
And just look at that handsome and slim MC on the end!
I'm twice the man now!
To add your comments click on
Links to this post
here or below.
It will take you to a stand-alone copy of this page.
There, you'll find the comments box, so feel free to let 'er rip.