The House
of Dark Shadows
D
aybreak at the great house of Collinwood. But it is a dawn that can bring just as much terror as the sunset, for inside the walls of this great house, evil lurks, affecting all who live within it. So, be warned. Once you enter, you will never be the same again...
"My name is Victoria Winters...
And, my journey is just beginning..."
O
n June 27, 1966, those words began the journey of a young governess to the remote coastal town of Collinsport, Maine, which for the next five years would be the home of the assorted supernatural forces inhabiting the world of ABC-TV's Dark Shadows, the first gothic soap opera.
F
rom the murky images of virginal governess Victoria Winters (Alexandra Moltke) on a twilight-bound train, to the hulking inky outline of the ominous Collinwood mansion, the opening moments of the first episode made it clear that Dark Shadows did not intend to play by any of the traditional soap opera rules. A heady distillation of gothic romance plots and intrigue, producer Dan Curtis' brainchild was not an overnight success.
I
nitially faced with poor viewing figures and the mysteries surrounding the parentage of the young governess, in desperation a ghost story was added to the mix. When viewers responded positively, the producers decided the supernatural plots were where the show's future lay, opening the floodgates for a vivid cast of spectral characters to menace the tortured Collins family and their ghost-ridden mansion, Collinwood, a dark wonderland housed in a tiny Manhattan studio.
N
ine months into the show's run, grave-robbing drifter Willie Loomis (
John Karlen
) released vampire Barnabas Collins (
Jonathan Frid
) from imprisonment in the Collins family mausoleum, and pop-culture history was born. Dark Shadows pioneered the silhouette of the angst-ridden vampire searching redemption some three decades before Angel lusted after Buffy. In spite of Dan Curtis' mandate to introduce a bloodsucking fiend as his vampire protagonist, the writers and production staff took a more considered approach, using the vampire myth as a metaphor for loneliness and isolation.
I
n the coming years, the residents of Collinsport would be victims to werewolves, witches, and warlocks, even the Devil himself. Amongst the most popular supernatural characters were Angélique (
Lara Parker
), a beautiful vengeful witch who gave the vampire curse to Barnabas, and Quentin Collins (
David Selby
) a Byronic teen idol afflicted with the werewolf curse.
M
oving back and forth through various time periods with bravado, and featuring an ersatz 'repertory company' of actors in multiple roles, Dark Shadows delivered imagination and adventure in abundance, drawing massive audiences. The cast toured the country to huge acclaim, regularly drawing thousands of enthusiastic fans.
I
n 1970, Barnabas' story was retold in graphic detail - replete with gallons of lurid gore - in the first of two Dark Shadows films,
House of Dark Shadows
, which proved a box office smash. Featuring the television cast, and filmed concurrently with the tapings of television episodes, the film's gory nature may have alienated some viewers.
F
or Jonathan Frid, it resolved his growing dissatisfaction with the role of Barnabas, and confirmed his suspicions that the role would leave him typecast. In 1971, when his contract had expired, Frid proved reticent to re-sign, and only agreed when offered the chance to play another character, Bramwell Collins.
A
fter 1,225 episodes, and still commanding impressive viewing figures, Dark Shadows ended its network run in April 1971, a cult television legend and a unique footnote in television history. A final voice over assured viewers that "...for as long as they lived, the Dark Shadows of Collinwood, were but a memory of the distant past."
W
ithin days of the final taping, production began on a new Dark Shadows film,
Night of Dark Shadows
. With Jonathan Frid declining the starring role, David Selby,
Kate Jackson
and
Grayson Hall
fronted an evocative ghost story with shades of
Rebecca
. Sadly, an eleventh-hour editing session saw nearly half an hour excised from the film, leaving it disjointed and confusing. In spite of this, its takings were respectable enough for MGM to request another Dark Shadows film, but Dan Curtis was not interested.
H
owever, this did not signal the end of Dark Shadows. Nationwide syndication of numerous episodes throughout the next two decades maintained interest in the show, and helped foster a strong fan culture. The late 1970s saw the first Dark Shadows convention, ShadowCon, which ran for several years before being superseded by the Dark Shadows Festivals, which continue today.
F
rom 1975, a number of Dark Shadows alumni were reunited for the ABC daytime drama Ryan's Hope, which taped at the original Dark Shadows studio. In addition to a cast that included Nancy Barrett and many Dark Shadows guest actors, producer Robert Costello, directors Lela Swift and Henry Kaplan and scenic designer Sy Tomashoff were also involved extensively. Costello and Swift both won Emmy awards for their work on the show.

D
ark
S
hadows itself continued to endure throughout the 1980s, and after many rumours of reunions and sequels, Ben Cross assumed the familiar Inverness cape and wolf's head cane for a short-lived prime time NBC revival series in 1991. Dan Curtis returned to spearhead the new project, which also starred Barbara Steele and Jean Simmons.
B
oasting lavish production values and locations, the series retold the original Barnabas storyline for an adult audience. Sadly, in spite of a rigorous publicity campaign, the misfortune of debuting on the eve of the Gulf War proved insurmountable. The new Dark Shadows was cancelled after just 12 episodes, in spite of NBC receiving over 50,000 letters of protest.
T
he 1990s saw the entire Dark Shadows archive repeated via the Sci-Fi Channel, which continues broadcast today, and their European counterparts gave its territories their first ever broadcast of the show from 1995-1999. MPI Home Video has released the entire series on US home video, and Harper Collins published two Dark Shadows novels in 1998 and 1999.
T
oday, more than 40 years since its first broadcast, it maintains an enthusiastic following of fans, fuelled by successful annual conventions and a vast array of merchandise. Rumours of a variety of new Dark Shadows production formats persist, and 2003 saw classic cast members reunited for Return to Collinwood, an audio play bringing the story into the present day. Spring 2004 saw another cast embracing the familiar Collins personalities as part of an ill-fated pilot for the WB network's fall season.
2006
saw Dark Shadows fans mourn the passing of Dan Curtis, the show's founding father. Ironically, at the same time, the Dark Shadows legend began another chapter with the announcement of a new series of audio dramas, starring original cast members.
I
ndeed, much like Barnabas Collins himself, Dark Shadows retains an immortality that time steadfastly fails to erode.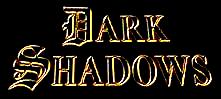 D
ark
S
h
adows
was like no other daytime drama. After a shaky start, it pulled out all the stops and went where no other soap opera had gone before —
G
othic
R
omance.
S
tory lines were often silly, the setting and sets were a cliché, special effects were laughable and the acting wasn't exactly
S
hakespearean.
S
till it caught the fancy of a broad spectrum of viewers from love-starved housewives to hormone-raged adolescent girls — not to mention a throng of proto-gay-lads who had yet to emerge from their closets.
H
mmmm.
C
ould there have been some parallel symbology going on here? —
L
ike Barnabas emerging from his coffin?
I
n the beginning,
D
ark
S
hadows was uber-low budget and even the opening & closing credits looked tacky.
T
he theme music was camp-creepy and for the first season, it was shot in black and white.
I
like to tell myself they did that to make it

scarier
.
Here is the cozy foyer of the Collinwood Mansion.
N
ow, for those of you who don't know the story, here is how it all started...
I
n the year 1752, Joshua and Naomi Collins, with young son Barnabas, set sail from Liverpool, England to start a new life in America. But even an ocean was not enough to escape the mysterious curse that has plagued their family. Two decades pass and Barnabas has the world at his feet — or at least the town of Collinsport, Maine. The master of Collinwood Manor, Barnabas is rich, powerful and an inveterate playboy…until he makes the grave mistake of breaking the heart of Angelique Brouchard. A witch, in every sense of the word, Angelique dooms him to a fate worse than death: turning him into a vampire, and then burying him alive.
T
wo centuries later, Barnabas is inadvertently freed from his tomb and emerges into the very changed world of 1972. He returns to Collinwood Manor to find that his once-grand estate has fallen into ruin. The dysfunctional remnants of the Collins family have fared little better, each harboring their own dark secrets. Matriarch Elizabeth Collins Stoddard has called upon live-in psychiatrist, Dr. Julia Hoffman, to help with her family troubles.
— And then things really start to get weird.
Barnabas Collins' residence on the Colinwood estate.
Julia Hoffman & Barnabas share a tender moment
but these respites never last very long since he's still in love with Josette who died 200 years ago. Man! Talk about carrying a torch!
Here is Carolyn Stoddard with her mother, Elizabeth Collins Stoddard, who seemed to be perpetually ill but managed do soldier on until 2004!
And here we have Willie Loomis
not getting through to Maggie Evans.
Image Via
Fortune City
Angelique - truly a witch and a bitch but still a babe.
More of the Collins Family Album here.
M
any of the older
D
ark
S
hadows cast members have moved on to that great sound stage in the sky. Among them are Joan Bennett (Elizabeth Collins Stoddard), Louis Edmunds (Roger Collins) and Grayson Hall (Julia Hoffman). Surprisingly enough, Jonathan Frid (Barnabas Collins) is still amongst us and going strong.
A
nd anyone who thinks the 87-year-old former heartthrob is living a dull, secluded life should check out the new images recently added to JonathanFrid.com. The once bloodthirsty Barnabas is obviously enjoying life in his native Canada and he often engages in online "conversations" with fans on his official site.
A Dark Shadows Online Special Feature by Craig Hamrick
T
he highlight of the
2003 Dark Shadows Festival
was the premiere of a new play featuring original cast members and bringing the tale of the Collins clan
into the twenty-first century. (Click
here
to see photos of the performance and behind-the-scenes shots.)
M
ore than 30 years after they first worked together,11 members of the cast of Dark Shadows reunited on stage in Brooklyn, New York, on August 31, to perform a dramatic reading of the new play Return to Collinwood. It was written by
Jamison Selby
(pictured, left), son of DS star David Selby.
T
he two-hour play was a crowd-pleaser, resolving mysteries established in the series and updating the lives of popular characters -- including some not featured in the current story (such as Barnabas, Julia, and Joe). The Festival audience laughed, cheered, cried - and at the end gave an enthusiastic standing ovation.
T
he next day, the cast reassembled in a Manhattan recording studio to record the play for release on CD.
Return to Collinwood

The CD is now available. Click here to visit the MPI site to purchase it.
I
t's 2003, and Quentin Collins has stopped roaming the earth and settled again at Collinwood. Carolyn Stoddard and her husband, attorney Ned Stuart, are living there as well, and a spooky housekeeper named Mrs. Franklin looks after them.
Q
uentin has found love with Maggie Evans, who is now the head of the Windcliff Institute for Mental Health. Ironically, one of the patients there is Sebastian Shaw, who once brought an emotionally disturbed Maggie to the sanitarium. Now, she is trying, with no success, to break through into Sebastian's catatonic world.
E
lizabeth
C
ollins
S
toddard's recent death has left her daughter, Carolyn, in a fragile state. Carolyn is revisiting an old hobby - painting - in Collinwood's tower room. She's been painting landscapes, but her latest project features a mysterious blonde woman she doesn't recognize. When Quentin sees the painting, he realizes it is Angelique, the witch who has plagued him (and his cousin Barnabas) through the ages. In fact, although she is unaware of it on a conscious level, Carolyn is being visited by Angelique's spirit in the tower.
C
arolyn holds a seance to try to contact Elizabeth, but instead, she opens a door for Angelique to escape the netherworld. After Carolyn collapses at the seance, Dr. Robert Harper comes to check on his former student and help investigate the strange happenings at Collinwood.
A
t the Old House, while installing a whirlpool bath, Willie and Jessica Loomis discover a letter from Barnabas Collins, along with Quentin's portrait.
T
he reading of Elizabeth's will holds a few surprises. Cassandra Collins, Roger's second wife (actually Angelique in disguise) is an invited guest - and she inherits a home on the great estate. Willie Loomis and his wife, Jessica, are given the Old House, where they've been living and making improvements.
A
nd the biggest shocker: Elizabeth confesses that before Carolyn was born, Elizabeth had a child out of wedlock. Victoria Winters, once employed at Collinwood as governess, is actually Carolyn's older sister. In the late 1960s, Vicki was transported into the past and has not been heard from since. In the will, Elizabeth implores Carolyn to find Vicki and bring her home.
V
iolet
C
ollins arrives, claiming to be the new wife of David Collins, who has recently disappeared in the jungles of South America. Quentin is jarred when he hears Violet's maiden name: Chavez. (In the 1890s, he shared a romance with Collinwood maid Beth Chavez, whom Violet strongly resembles.)
A
ngelique awakens Sebastian to do her bidding. She and Quentin clash, but they reach a stalemate.
F
ed up with Quentin's mysterious behavior, Maggie threatens to break off their relationship. He braces himself and begins to tell Maggie the incredible truth about his supernatural past.
T
he play sets the stage for at least one sequel - or perhaps even a new series.
A radio drama by Jamison Selby, vased on the
Dark Shadows
television series created by Dan Curtis.
Nancy Barrett...Carolyn Stoddard Hawkes Stuart
Terry Crawford...Violet Chavez Collins
Roger Davis...Ned Stuart
John Karlen...Willie Loomis
Lara Parker...Cassandra Collins/Angelique
Christopher Pennock...Sebastian Shaw
Kathryn Leigh Scott...Maggie Evans Haskell
David Selby....Quentin Collins
James Storm...Dr. Robert Harper
Marie Wallace...Jessica Loomis
Donna Wandrey...Mrs. Franklin
---
The Characters
(photos © Craig Hamrick)
After growing up in a haunted house,

Carolyn Stoddard

has become a renowned expert on the paranormal and the occult. She is head of the Dept. of Parapsychology at the University of Maine, but her mother's recent illness (and death) caused her to take a sabbatical at Collinwood. She is married to attorney Ned Stuart.




---

After years of wandering the world,

Quentin Collins

has settled at Collinwood. He recently tried to track down David Collins, but lost his trail in the middle of a South American jungle. (After a falling out with his father, David left Collinwood and became an archeologist.) With Roger Collins dead, Quentin has taken over the family business.




---

Angelique

has returned from the netherworld and wishes to claim her rightful place at Collinwood. She is masquerading again as Cassandra Collins, Roger's second wife, but her disguise does not fool those who have known her before, including Quentin and Willie.




---

Maggie Evans

married her longtime boyfriend, Joe Haskell, but he was killed in a boating accident ten years ago. She is now the head of administration at the Windcliff Institute for Mental Health and is romantically involved with Quentin Collins.




---

Willie and Jessica Loomis

live at the Old House on the Collinwood estate, and are co-owners of the Blue Whale bar. (Jessica is a new character, not featured in the original TV series.)




---

Ned Stuart

has been the attorney for the Collins family for many years. When Carolyn returned to Collinwood to care for her mother, she and Ned fell in love. They have been married for about a year.




---

Dr. Robert Harper

is an expert on the spirit world and a college instructor. He was one of Carolyn's teachers, and he has returned to Collinwood during her time of need: After her mother's death she is vulnerable to Angelique's influence. (This is a new character.)




---

When longtime housekeeper Sarah Johnson retired, she trained

Mrs. Franklin

to

take her place. (This is a new character.)




---

Sebastian Shaw

is an inmate at Windcliff and has been in a catatonic stage for many years - making him an ideal pawn for Angelique.




---

Violet Chavez Collins

is the new wife of David Collins. She arrives at Collinwood during the reading of Elizabeth's will to take her place in the family and look out for her husband's interests. (This is a new character.)
Text

&

Images Via Dark Shadows on Line

To add your comments,

click on

It will take you to a stand-alone copy of this page.

There, you will find the comments box,

so feel free to let 'er rip.






Entertainment Weekly Unveils
The Dark Shadows Movie Cast Photo


E
ntertainment
W
eekly have issued the first official cast photograph from the new Dark Shadows feature film, which is seen above. From left to right:
Helena Bonham Carter
(Dr. Julia Hoffman),
Chloe Moretz
(Carolyn Stoddard),
Eva Green
(Angelique Bouchard),
Gulliver McGrath
(David Collins),
Bella Heathcote
(Victoria Winters),
Johnny Depp
(Barnabas Collins),
Ray Shirley
(Mrs Johnson),
Jackie Earle Haley
(Willie Loomis),
Jonny Lee Miller
(Roger Collins) and
Michelle Pfeiffer
(Elizabeth Collins Stoddard).
T
he picture is based on
this classic cast portrait session
from 1967. Says director Tim Burton: "For me, it captured the weird Dark Shadows vibe in a single image. I had a brief window of opportunity to have our cast present at the same time, the day before principal photography began. We decided to stage a similar picture instead of rehearsing, to see if we captured the Dark Shadows feeling."
T
he piece also confirms that the character of Mrs Johnson will appear in the film, played by Ray Shirley. Collinwood's faithful maid has been reinvented slightly, as writer Seth Grahame-Smith explains: "Poor old Mrs Johnson... the mostly blind, mostly deaf maid who has been with them [the Collins family] for decades and decades."
T
o read full profiles of all the characters with commentary from Tim Burton, Seth Grahame-Smith and producer Richard D. Zanuck, visit the
Entertainment Weekly website.
Scheduled
Release Date is May 11, 2012
Only 3 more days until Hallowe'en!