To add your comments,

NOTHING posted here is mine!

Internet Debris does not claim rights

to any of the photos or media content posted to the site.

No copyright infringement is intended.
Oxymorons



Jumbo shrimp is an oxymoron.
Is it little or is it big?




An oxymoron is a combination of words that contradict each other. Here are some favourites...
Via How Stuff Works
Ten Stars Who Died
During the Filming of a Movie




L
ong after their time is up, movie stars live on through DVDs and cable reruns. But the stars on this list died before completing a project, leaving directors in an emotional and logistical bind, and forever attaching a dark footnote to a movie's history. In some cases the movie was canceled, in others the star was recast, while in others production moved forward with some creative editing.
1. Marilyn Monroe
Image via

Robot vs. Badger
B
londe bombshell
Marilyn Monroe
, famous for her film roles, multiple marriages, and memorable serenading of President John F. Kennedy, died on August 5, 1962, before she could finish filming Something's Got to Give.
T
he comedy, directed by George Cukor and also starring Cyd Charisse and Dean Martin, had been plagued with conflict from the start. At one point, Monroe was even fired. But Martin refused to work with any actress other than Monroe, so the famous beauty was rehired. Before Monroe could resume her role, however, she was found dead in her Brentwood, California, home, the result of an overdose of barbiturates. Something's Got to Give was scrapped, but parts of the unfinished film were included in a 2001 documentary titled Marilyn Monroe: The Final Days.
A
year later, in 1963, the script was slightly revamped - deleting the nude moonlight swim scene. It was renamed "
Move Over Darling
," starring Doris Day and James Garner. It was a solid box office success and spawned another pop hit (
Move over Darling
) for Day. - Nealbo
2. John Candy
Image via

Celebuzz
F
unnyman John Candy, known for portraying portly, lovable losers in such movies as Stripes, Uncle Buck, and Planes, Trains & Automobiles, died of a massive heart attack on March 4, 1994, during the filming of Wagons East. A body double was used to replace Candy, and the film - a comedy set in the Wild West - was released later that summer. The movie was widely panned by critics as an unworthy farewell to Candy, who was just 43 when he died.
3. River Phoenix
Image via

Fangolian
R

iver

P

hoenix, a young actor who shot to stardom after appearing in Rob Reiner's Stand by Me, was near the end of filming Dark Blood when he died of a drug overdose on
Halloween
1993 at age 23. The movie, a dark tale about a widower (Phoenix) living on a nuclear testing site, was subsequently canceled because Phoenix's presence was crucial to several yet-to-be-shot scenes. Phoenix was also slated to film Interview with the Vampire with Tom Cruise. His role was taken over by Christian Slater, who donated his salary from the film to a charity in Phoenix's honor.
4. Vic Morrow
Image via

We Meant Well
V

ic

M

orrow, a tough-talking actor known for his role in the TV series Combat! as well as a string of B-movies, was killed in July 1982, in a tragic accident on the set of Twilight Zone: The Movie. The script called for the use of both a helicopter and pyrotechnics -- a combination that would prove lethal. When the pyrotechnics exploded, the helicopter's tail was severed, causing it to crash. The blades decapitated Morrow and a child actor, and another child actor was crushed to death.
A

lthough the filmmakers faced legal action from the accident, the project was completed and the movie was released in June 1983. It performed poorly at the box office, based partially on the controversy surrounding the accident.
5. Oliver Reed
Image via

Theneilmanspace
O

liver

R

eed, as famous for drinking and partying as he was for acting, died in a pub on May 2, 1999, before he could finish filming Ridley Scott's epic Gladiator. Reed, who was 61, collapsed on the floor of a bar in Malta and died of a
heart attack
. Most of his scenes in Gladiator had already been shot when he died, but Scott had to digitally re-create Reed's face for a few remaining segments. The Internet Movie Database estimated the cost of the digital touch-ups at $3 million. When Gladiator was released in 2000, it grossed more than $187 million in the United States alone and snared five
Oscars
, including Best Picture.
6. Natalie Wood
Image via

Theneilmanspace
W

hile taking time off from shooting "Brainstorm" to celebrate Thanksgiving, an intoxicated Wood fell off her yacht and drowned. Wood's death came before she was set to film an important climactic scene. MGM considered both offering the movie rights to Paramount and, at one point, shelving the project all together.
I

n the end, director Douglas Trumbull convinced them he could finish it with body doubles.
"Brainstorm" received moderate reviews from critics – though the special effects were heavily praised – but ended up losing money at the box office.
November 18, 2011 - UPDATE
- The Los Angeles County Sheriff's department has held a news conference regarding its decision to
reopen the inquiry
into the death of film star Natalie Wood. The 43-year-old actress drowned in 1981 during a boat trip off the coast of California, and her death was ruled to have been an accident at the time.
7. Brandon Lee
Image via

Enter Oblivion
B

randon

L

ee, an aspiring actor and the son of martial arts star Bruce Lee, was killed in a freak accident on the set of The Crow on March 31, 1993. Lee, who was 28 at the time, was playing a character who gets shot by thugs upon entering his apartment. Tragically, the handgun used in the scene had a real bullet lodged in its barrel, which was propelled out by the force of the blank being shot. Lee was hit in the abdomen and died later that day. The movie was nearly complete at the time of the shooting, but a stunt double was needed to complete a few remaining scenes, and Lee's face was digitally superimposed onto the stunt double's body.
8. Bela Lagosi
Image via

Theneilmanspace
I

n 1959, director Ed Wood began filming "Plan 9 From Outer Space."Previously, he had shot a couple minutes of silent footage of Lugosi wearing a cape for a planned vampire project that never came to fruition. The horror icon later died of a heart attack. Wood decided to use what he had shot in "Plan 9 From Outer Space" and edit it into the movie multiple times. A body double, Tom Mason – who looked absolutely nothing like Lugosi – was brought in to finish the film. While some will argue that "Plan 9 From Outer Space" is an abomination – it's widely considered one of the worst films ever made – it is now a cult classic. Quite simply, it's so horrible that it's completely awesome. They don't make 'em like this anymore.
Image via

Theneilmanspace
A

aliyah died in a plane crash after finishing all her scenes in "Queen of the Damned." However, there were still some gaps in the audio that needed to be filled. Her brother, Rashad Haughton, was brought in to help overdub her voice. Since it was all but finished at the time of her death it made sense to finish the film. Upon its release, however, "Queen of the Damned" was universally panned by critics and Anne Rice fans, though Aaliyah's performance is regarded as one of its few redeeming aspects.
10. Clark Gable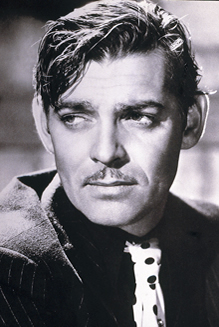 Image via

Legendary Clark Gable
C

lark

G

able died of a heart attack before filming of "The Misfits" had concluded. Some speculated that it was the result of shooting some strenuous scenes – Gable insisted on doing his own stunts. This included being dragged by horses. Almost all of his scenes were done, so a body double was used to finish off the film. Though the film was well received by critics, it performed poorly at the box office. However, it is now considered a classic. "The Misfists" was also the last completed film for Marilyn Monroe.
Do Einstein's Laws Prove Ghosts Exist?
E
very night, amateur ghost-hunting groups across the country head out into abandoned warehouses, old buildings and cemeteries to look for ghosts. They often bring along electronic equipment that they believe helps them locate ghostly energy.
D
espite years of efforts by ghost hunters on TV and in real life, we still do not have
good proof that ghosts are real
. Many ghost hunters believe that strong support for the existence of ghosts can be found in modern physics. Specifically, that
Albert Einstein, one of the greatest scientific minds
of all time, offered a scientific basis for the reality of ghosts.
A
recent Google search turned up nearly 8 million results suggesting a link between ghosts and Einstein's work covering the conservation of energy. This assertion is repeated by many top experts in the field. For example, ghost researcher John Kachuba, in his book "Ghosthunters" (2007, New Page Books), writes, "Einstein proved that all the energy of the universe is constant and that it can neither be created nor destroyed. ... So what happens to that energy when we die? If it cannot be destroyed, it must then, according to Dr. Einstein, be transformed into another form of energy. What is that new energy? ... Could we call that new creation a ghost?"
T
his idea shows up — and is presented as evidence for ghosts — on virtually all ghost-themed websites as well. For example, a group called Tri County Paranormal states, "Albert Einstein said that energy cannot be created or destroyed, it can only change from one form to another. When we are alive, we have electrical energy in our bodies. ... What happens to the electricity that was in our body, causing our heart to beat and making our breathing possible? There is no easy answer to that."
I
n fact, the answer is very simple, and not at all mysterious. After a person dies, the energy in his or her body goes where all organisms' energy goes after death: into
the environment
. When a human dies, the energy stored in his or her body is released in the form of heat, and transferred into the animals that eat us (i.e., wild animals if we are left unburied, or worms and bacteria if we are interred), and the plants that absorb us. If we are cremated, the energy in our bodies is released in the form of heat and light.
W
hen we eat dead plants and animals, we are consuming their energy and converting it for our own use. Food is metabolized when digested, and chemical reactions release the energy the animal needs to live, move, reproduce, etc. That energy does not exist in the form of a glowing, ghostly ball of electromagnetic energy, but rather in the form of heat and chemical energy.
M
any ghost hunters say they can detect the electric fields created by ghosts. And while it's true that the metabolic processes of humans and other organisms actually do generate very low-level electrical currents, these are no longer generated once the organism dies. Because the source of the energy stops, the electrical current stops — just as a light bulb turns off when you switch off the electricity running to it.
M
ost of the "energy" that any dead person leaves behind takes years to re-enter the environment in the form of food; the rest dissipates shortly after death, and is not in a form that can be detected years later with popular ghost-hunting devices like electromagnetic field (EMF) detectors. Ghost hunters who repeat the claim that
Einstein's theories
provide a sound basis for ghosts reveal less about ghosts than they do about their poor understanding of basic science. Ghosts may indeed exist, but neither Einstein nor his laws of physics suggests ghosts are real.
T
his story was provided by
Life's Little Mysteries
, a sister site to LiveScience. Benjamin Radford is deputy editor of Skeptical Inquirer science magazine and author of "Scientific Paranormal Investigation: How to Solve Unexplained Mysteries." His website URL is
www.BenjaminRadford.com
. Also see
6 Paranormal Videos Debunked

.
Tata Motors' Air Car:
Which Way Does the Wind Blow?
I
t seem

s like every few months, we get wind of another vehicle that is supposed to be powered by compressed air. The Mini Cat Air Car, from India-based Tata Motors, seems almost too good to be true. Tata Motors is India's largest automobile company. It is the leader in commercial vehicles, and among the top three in passenger vehicles.
Designed by an ex-IndyCar™ engineer, the Mini Cat utilizes compressed air to move its motors' pistons, claims zero tailpipe emissions, and an extremely low cost to run. Is it the real deal, or a lot of hot air?

Compressed-air has been used to power a wide variety of vehicles since the 1800s with only limited success, due to inherent inefficiencies. The concept found some limited success in powering locomotives, mostly used for mining, where a combustion-free energy source was desirable. Ultimately, even these were replaced by more efficient electric motors.
Several modern companies have attempted to produce a working compressed-air powered car, but none have yet to reach the consumer market.
Energine Corporation, of Korea, claimed that it was going to deliver a hybrid compressed-air/electric car, only to see its CEO arrested for making exaggerated claims.
K'Airmobiles, a French company, were another compressed air concept, but it never saw the light of day. The company was unable to procure the necessary funding, and the engineers who worked on the project, ultimately admitted that the inherent efficiency and low-running-temperature problems made the project unfeasible.
In 2010, Honda showed off the Honda Air concept car, a 1,000-pound, 4-passenger car, made out of composite materials. (While the concept sounds good, in theory, I would hazard a guess that the high price of the composite materials used in this car would make it unable to compete with other alternatively-fueld vehicles.)
The TaTa Air Car concept engine was developed by Motor Development International ("MDI"), of France, with the backing of Tata. (This version of a compressed air engine has been in development for over 20 years.) Zero Pollution Motors holds a license to produce the cars in the U.S. market.
However, this version of an air-powered car has also been beset with problems.
In 2008, Popular Mechanics wrote, "Zero Pollution Motors confirmed to PopularMechanics.com on Thursday that it expects to produce the world's first air-powered car for the United States by late 2009 or early 2010."
Although there are several blogs, and news outlets, which still refer to Zero Pollution Motors as the holder of the U.S. license to produce MDI's Air Cars, I was unable to uncover any evidence that the company is still in existence, at least in any substantial form. (For example, the company's website, zeropollutionmotors.us, has a suspended domain name.)
In 2009, Tata Motors' vice-president (engineering systems) S. Ravishankar told DNA Money the project is facing difficulties in terms of vehicle range and cooling. Ravishankar said, "Air is not a fuel, it is just an energy carrier. So a tank full of air does not have the same energy as a tank full of CNG. Any vehicle using only compressed air to run would face problems of range."
The article continues: "Ravishankar…went on to say that excessively low engine temperature is another problem, in a vehicle using only compressed gas as fuel."
In April of this year, InAutoNews.com explained that the cars, intended for the U.S. market, would not be entirely emissions-free, because a small gasoline engine was required, to allow the car to run at city speeds. (Perhaps this was the reason, for the long delay, in bringing the air car to market? Perhaps the designers were attempting to figure out a way to make the One Cat run on compressed air, only?)
In December of 2009, UC Berkeley, ICF International and Stanford experts had this to say about the feasibility of compressed air versus chemical fuels, as an energy storage medium: "The study concluded that even under highly optimistic assumptions the compressed air car is less efficient than a battery electric vehicle and produces more greenhouse gas emissions than a conventional gas powered car with a coal intensive power mix. It did state however, that a pneumatic combustion hybrid is feasible and inexpensive and could compete with hybrid electric vehicles.
So, it would appear that the jury is not entirely out on the feasibility of a compressed air powered car, but it certainly does not look good for the Tata/MDI version.
But let's assume that the Mini Cat Air Car really does live up to the claims of the manufacturer. Just how environmentally-friendly is a compressed air car, anyway?
In 2009, that's exactly what Popular Mechanics endeavored to find out. They compared the Zero Pollution Motors AirPod (an extremely strange-looking precursor to the Mini Cat), to electric, gas, hybrid and diesel. The numbers include the CO2 produced, by the generation of any required electricity. The results were interesting:
Zero Pollution Motors AirPod: "24.014 pounds CO2 for 100 miles"

Tesla Roadster: "32.98 pounds of CO2 for 100 miles"

2010 Toyota Prius: "39.192 pound of CO2 for 100 miles"

2009 Honda Civic (non-hybrid): "64.67 pounds of CO2 for 100 miles"

2009 VW Jetta TDI Diesel: "62.5 pound of CO2 for 100 miles"
Popular Mechanics' conclusion? "The AirPod is CO2-light, even for a tiny three-seater (although we wonder if the mileage goes down with three people onboard, which effectively doubles the vehicle's weight). But zero pollution? Not so much."
So, from a strictly empirical analysis, it would appear that air cars (if they were feasible) would have a bit of an edge where pollution is concerned. Of course, air cars would still not have the speeds necessary to allow them to be driven on highways.
Being an eternal optimist, I still hold out hope that Tata isn't just "blowing smoke." I'm not going to hold my breath, though.
Steve Puma
is Director of Business Development for
SABA Motors
, and a sustainability writer/consultant. His work focuses (mostly) on clean transportation, including Plug-In Electric Vehicles, something he is very passionate about.
To add your comments, click on

links to this post

here or below. It will take you to a stand-alone copy of this page. There, you will find the comments box

at the very bottom,

so feel free to le

t 'er rip.
Spooooky Reading...

It's not too early to think about Christmas gifting.

Dame Edna