To add your comments,

click here

.
Osama's last Facebook entry.
Image Via Frank Heydenrych's Life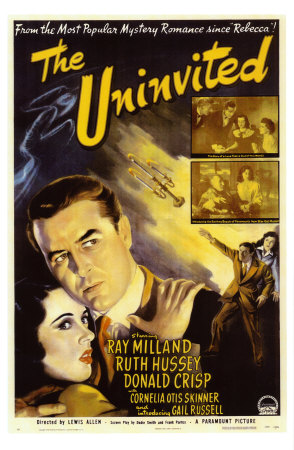 The Uninvited (1944) - is by far the best old-time ghost movie ever. It has a good story and does not depend upon scary special effects to get you creeped out. I lent my DVD of this to someone - can't remember who. Never got it back.
The Innocents (1961) - based on Henry James's Turn of the Screw. It's a really good movie.
The Haunting (1963) - based on Shirley Jackson's chilling The Haunting of Hill House.
Blithe Spirit (1945) - Wonderful screwball comedy involving a dead wife who wants to break up her widowed husband's new marriage.
13 Ghosts (1960) - This old spooker in 3D scared the hell out of me, unlike the cheezy 2001 flick by the same name.
Topper (1937) - The TV show was actually better but Cary Grant and Constance Bennett made great ghosts - and let's not forget Asta, the wonder dog's contribution.
The Ghost and Mrs. Muir (1947) - The most romantic story in the list. You'll love beautiful Gene Tierney.
I Married a Witch (1942) Starring Veronica Lake and Fredric March it's not really a ghost story, it's a witch story and a pretty funny one at that. It had to be the genesis of the original Bewitched TV series.
The Shining (1980) - Here's Johnny! Way over the top, but still chilling as all get-out. Loved Shelley Duval.
House on Haunted Hill (1959) - Three words: Vincent Price. Campy. Fun!
The Canterville Ghost (1944) - Charles Laughton has to be the bride of Frankenstein's favorite actor.
Poltergeist (1982) - Perhaps too slick, but a spectacular ending and the clown was really scary.
Hold That Ghost (1941) - If you are into Abbot and Costello it's probably the best movie they ever made.
The Others (2001), This bonus listing is the only modern ghost flick on this list. Nicole Kidman is great in it. It's intelligent, unnerving and has a great surprise ending.

Cary Grant

&

Constance Bennett

Gene Tierney

Veronica Lake

Shelley Duvall

Nicole Kidman
Dark Shadows
Bite Me, Barnabas, Bite Me!
Branabas Collins
,
gave rise to the original meaning of "bite me." in the late 1960s,
Jonathan Frid
became the most unlikely actor to become a sex symbol. He wasn't particularly handsome, didn't have a buff body and he was middle aged! Still women of all ages were getting moist in the panties - if not exactly for Frid himself - at least they were hot for for his character, Barnabas the vampire on the Gothic soap,
Dark Shadows
. Five times a week teenage girls and certain boys would rush home after school to catch the goings on in the fictional community of
Collinsport, Maine
and particularly at the sprawling
Collinwood Estate
.
Although the show as Gothic from the start with witches, zombies, ghosts and werewolves, it lacked the hook to keep viewers glued to their TV sets. That changed with the addition of the vampire Barnabas character. Planned to only be on the show a few weeks, increased ratings made producers rethink, making Frid a permanent cast member. Soon Barnabas was the central character taking his fellow dennisons to the past, to a parallel universe and even further into the murky world of the walking dead.
Sadly, though it was a cult classic,Dark Shadows was cheaply made and, more often than not, utterly hokey. Eventually, even with Barnabas, the show died a lingering death and was finally axed by the
ABC Television Network
. Following this, came three tacky Dark Shadows movies starring the original TV cast -
"Dark Shadows
," "
House of Dark Shadows
" and "
Night of Dark Shadows
." Then, in 1991, there was a lavish
revival mini series
starring
Ben Cross
but it still didn't satisfy those who'd had a taste of the real thing. Anyone but Jonathan Frid playing Barnabus was - well - unnatural.
N

ow, the Dark Shadows franchise has re-emerged from its crypt in a

new movie

currently in production and planned for release in 2012. Starring

Johnny Dep

as the big B with

Helena Bonham Carter

and

Michelle Pfieffer

rounding out the cast, the flick has a reasonable chance to be a hit. But when little girls have their mildly erotic fantasies and whisper "

bite me, Barnabas, bite me,

" whose face will they be imagining?
And now, something totally off topic...
S

ix years ago, in November of 2005, a fledgling Magazine called Jozi Today produced its first issue with a big splash. Piggy-backing on the "rebranding" of a downtown Johannesburg district called Braamfontein. In fact, the purpose of Jozi Today was to promote that neighbourhood and profile businesses and events there. There was plenty to talk about from the Johannesburg Civic Theatre (now the Joburg Theatre) to the many art galleries, bistros and sidewalk cafes.


I

had a considerable stake in this publication as I was part owner and the senior editor. Unfortunately the magazine tumbled like a house of cards largely because there were too many chiefs and not enough Indians. Anyway, that's water under the Mandela Bridge. Back in the day, times were bracing and exciting and a few of us thought nothing would stop us. The first issue featured a young actress named Nadia Valvekens on the front cover. And the feature started off like this…


S

ecreted away on Fox Street in central Jo'burg are the Global Access Studios and the many sets for the nighttime Afrikaans drama, Binnelanders. Here we get to meet twenty-three-year-old Nadia Valvekens has just recently won the plum role of Pippa Venter.


F

or someone so young, she is exceedingly accomplished in her craft and has been a thespian since she was 7. "In primary school," she says, "I loved doing drama. I couldn't get enough of it and took extracurricular acting classes. Then, after high school, I studied for three years at Technikon Pretoria as a BA drama student." From there, she acquired an agent and began doing the audition rounds. Roles in two short films in 2002 led her to television work in series such as Scandal , Egoli and 7 de Laan.


J

oining the cast of Binnelanders in August of this year (2005), she has only begun appearing on South African television screens as her Pippa alter ego. "Our episodes are taped about 8 to 10 weeks in advance so there's always a bit of a gap before new characters like Pippa finally appear." And what kind of person is she? "Well," Nadia smiles. "She's a nice girl. She's a nurse but she's a sucker for romance. She falls in love too easily and she never follows the wise advice she gives to other people. In other words, she's a perfect fictional character. And there's a lot of intrigue in her life too."


S

o whose life is more complicated – Pippa's or Nadia's? "Most certainly Pippa's life is far more complicated than mine." Nadia laughs. "My life is pretty well straightforward. I learn my lines and I go to work. There isn't much time for anything else." A typical workday for Nadia starts at 7:00 a.m. following an hour-long drive from her home in Pretoria. "Very often, cast and crew on our show do 12-hour days. That's quite usual for this industry."


A

nd what's it like being an up-and-coming TV actress? "It's fun and exciting and I love it." Nadia admits. "But it's a job – and in many ways, a job like any other. Each of us is expected to be prepared and ready to do our best every day. – But it is also what I love to do. So I feel very lucky." Is it a glamourous life? "Yes, I suppose it is," she concedes, "but it's not all about that. Truly, I'm not dancing at the clubs until dawn every night. It is real work and requires discipline and dedication, but it is so very satisfying to me."


Binnelanders

airs every Thursday evening – with English subtitles – at 7:30 p.m. on M-NET.
I

n the ensuing years, Binnelanders has evolved, expanding its story line and its level of drama. Characters have come and gone; typically jumping to other popular soaps like Isidingo and Rhythm City. However Nadia and Pippa have remained – "But Pippa still wears her heart on her sleeve and leads a far more dramatic life," the now 28-year old actress insists.
T

he dress worn by Nadia in Jozi Today's cover shoot was designed by Fashion Shack Designs. Her skirt and top was/is a one-of-a-kind creation co-designed by Annie Mahlati and Beauti Mdisha. Today, that size 2 gown belongs to my daughter, Tylar-Ann, who lives in Saskatchewan. Obviously, my girl doesn't have much opportunity to wear such fancy duds being a wife and mother living in the wilds of western Canada. However, the outfit still looks good – even with rubber boots. Now, that's the real test of a designer ensemble.
To add your comments, click on
here or below. It will take you to a stand-alone copy of this page. There, you will find the comments box, so feel free to let 'er rip.