To add your comments,
NOTHING posted here is mine!
Internet Debris does not claim rights
to any of the photos or media content posted to the site.
No copyright infringement is intended.
TV! In glorious black and white!
I

n 1959, my parents bought a

Fleetwood

black

&

white 21" TV-AM radio-

hi-fi

record player combo. The set was humongous and cost $420.00. Just to put that into perspective, $420.00 in 1959 is equal to $3,138.36 in 2011. That makes a 48" flat screen TV at $1,250.00 seem like a down-right bargain! Sadly, in 1962, the big Fleetwood was fried during a thunderstorm and was replaced by a much less costly
RCA Victor
receiver very similar to the one pictured below.
1950s Icons
Speedy Alka Seltser
For Many kids who grew up in 1950s
North America,
THIS was their first memory.
I

Love Lucy was arguably the first major smash-hit television program, but many others were soon to follow the show's success and popularity throughout the 1950s. Whether you remember them from re-runs or from when they were first aired, there is a certain mystique of genuine Americana surrounding classic '50s television hits that still lives on to this very day; and not only in the world of re-runs, but now also on the Internet. Indeed, the attention still given to many of these programs is no small testament to their contemporary appeal.

T

herefore, it is no surprise that some fanatics of '50s television have created a cyberspace playground for all those who still cannot get enough of shows from The Lone Ranger to Rocky and Bullwinkle. All sorts of cool pictures, film clips and biographical information can be attained from the Internet about the lives and adventures of the characters America came to know from the earliest days of black and white television.

I

t is, after all, somehow fitting that one of the first major visual media forms should be honored through the latest medium of popular culture, the Internet. While much of the contemporary charm of 1950s television lies in the popular conception of it somehow representing a more simple and straightforward time (a debatable proposition, to be sure!), it is easy to forget that the comparatively crude technology of black and white television was, in the 1950s, every bit as cutting-edge and exciting as the Internet is for us today. So, what better place for these two powerful mass media tools to meet!
MM
T

he 1950s was Marilyn Monroe's decade. She was at the top of her career from 1953 through 1959. The Marilyn most people conjure up in their minds was created and solidified during this 6-year period. From Niagara to Some Like it Hot, MM was at her very best. 1961's The Misfits was Monroe's most serious foray into drama. Her performance was outstanding but by this time, she was fully descending into pronounced insecurity, alcoholism and drug abuse. This decline ended with her death on August 5, 1962. The prettiest girl in the world died at home, alone on a Saturday night.
Actor Fess Parker took Davy Crockett from an historical figure

to a larger-than-life action hero.

T

he State of Tennessee produced two truly significant pop-culture icons of the 1950s – Elvis Presley and Davy Crockett. Well, to be nit-picky about it, Elvis was actually born in Mississippi, but Tennessee is where he became the man who was eventually to get terminally fat in Vegas and succumb at an unspeakably early age. Crockett also died before his time, but for a different reason. And he wasn't fat and drug-addled as far as I know.

I

only mention the Crockett thing because I read that Fess Parker, who played Crockett for Uncle Walt in the 1950s, and became perpetually typecast in the role of King of the Wild Frontier, just died at the age of 85, and thus earned his historical footnote status.

Y

et, in his heyday, Crockett/Parker was very big. Mammothly big. While older kids gravitated to the other Tennessee boy, that ole 'Hillbilly Cat', little kids found their icon in the cat in the coonskin cap. Not telling how many raccoons bit the dust in the name of that fad but in my esteem — as a former chicken raiser who saw too many of his Rhode Island Reds succumb to the savagery of those masked marauders – not enough.

T

ruly, if you weren't there at the time you cannot appreciate how huge this childhood icon was. In fact, Canadians of the stripe that politically holds that everything that originates in America – and especially American heroes – is bad for Canadians, decried the popularity of the old buckskin wearer among mini-Canucks. Their attempts to thwart the influence of old Davy didn't succeed. Mainly because he was too cool.

T

he forces of Canadian rectitude vainly attempted to compete with a TV series revolving around two couriers de boisnamed Radisson (who gained later fame as a hotel chain) and Groseilliers. To state the case mildly, it didn't work worth a damn. For one thing the characters were charmless and highly uncool, and secondly, for kids in the far west, like us,les couriers meant little. A western hero like Crockett (who was basically a cowboy in buckskins) did. And that was the key to Uncle Walt's success in programming for kids.

D

avy and his buddy Georgie Russell (Buddy Ebsen) went out and "kilt bars" and fought river pirates like the notorious Mike Fink (a true historic figure), and the Creek Injuns alongside Andy Jackson, and eventually (and fatally) Santa Ana's boys at the Alamo. Kids were told, of course, that Davy was fighting for "freedom", despite the fact that the Mexicans in their attack were actually taking back a chunk of terrain that had been arbitrarily stolen from them by Texas. Oh, well.

O

h, and Davy also ran for Congress and was elected for a term where (in real life) he became known as a colossal self-aggrandizer (read bullshitter) and a man who enjoyed a few too many jars in his off hours. Much of the 'legend' of Davy Crockett was actually penned by Crockett himself.

A

s for the Crockett fad, like the hula hoop it didn't last long. The song was popular for a brief time, and virtually every kid in the neighborhood had that aforementioned coonskin cap. My brother had one in which the tail hung down to waist level and if it was still around it might be a reasonable collectible.

R

est in peace, Fess. You had your brief moment in pop culture history and you handled it well, despite your reported resentment at being type-cast in the role for all eternity. True, you later played Dan'l Boone on TV, but you were still basically Crockett using a different name. But that's OK. Most people don't ever get the 15 minutes of fame you had.
F

ormed in 1946 in Sheboygan, Wisconsin, USA, the Chordettes were a female singing group whose career extended into the rock era. Initially envisioning themselves as a female barbershop quartet the original members were lead singer, Dorothy Schwartz, Janet Ertel (bass), Carol Buschman (baritone) and Jinny Lockard (tenor).

I

n 1949, the group came to the attention of Arthur Godfrey, whose national Talent Scouts radio programme was a popular means for acts to break through to a wider audience. Godfrey offered the Chordettes a permanent spot on the show and they were signed to Columbia Records, for whom they recorded a series of 10-inch extended play records.
I

n 1953 the group left Godfrey and signed to Cadence Records, operated by Godfrey's musical director, Archie Bleyer (Ertel married Bleyer in 1954). Their first recording for Cadence, 'Mr. Sandman', in 1954, became a million-seller, logging seven weeks at number 1 in the US charts.

I

t featured Lynn Evans, who had replaced Schwartz, as lead singer, and Margie Needham, who had replaced Lockard. The Chordettes remained with Cadence until the early 60s, gaining three other Top 10 hits - 'Born To Be With You' (1956), 'Just Between You And Me' (1957) and 'Lollipop' (1958). The group disbanded in the mid-1960s. Source: The Encyclopedia of Popular Music by Colin Larkin. Licensed from Muze
David Nelson
W

ithout much notice, actor-director-producer David Nelson died on January 12, 2011. Older brother to teen idol, Rick Nelson, he lived most of his life in the shadow of his more famous sibling.

H

is film credits included "Peyton Place," ''The Remarkable Mr. Pennypacker," ''The Big Circus," ''Day of the Outlaw," ''30,'' ''The Big Show," ''Love and Kisses" and "Swing Out, Sweet Land." In 1976, he costarred with his mother in "Smash-Up on Interstate 5."

H

is television credits included "Up In Smoke," ''The Love Boat," ''High School USA," and "A Family For Joe." Directing credits included "O.K. Crackerby," ''Childish Things," ''Easy To Be Free," ''Ozzie's Girls," ''Death Screams," ''Last Plane Out," ''Goodnight Beantown" and "A Rare Breed."

D

avid

N

elson starred on his parents' popular television show "The Adventures of Ozzie and Harriet" and was was the last remaining member of the Nelsons TV family, which included actor/band leader Ozzie, his singer wife, Harriet Hilliard and teen idol brother Rick. The show originated on radio in 1952 as "Here Come the Nelsons," then ran for 320 episodes on TV from 1952 to 1966 as "The Adventures of Ozzie and Harriet" with some of the story lines coming from their real lives.

E

xterior scenes for "The Adventures of Ozzie and Harriet" were shot outside the Nelson family home in the Hollywood foothills, and it remains a popular attraction for visitors on celebrity bus tours. The home's interior was duplicated on a studio sound stage where the series was shot.

B

orn in New York City, Nelson attended Hollywood High School and the University of Southern California. He was honored with a star on the Hollywood Walk of Fame in 1996.

N

elson, who was battling complications of colon cancer, died at his Los Angeles home, said family spokesman and longtime Hollywood publicist, Dale Olson. He is survived by his wife, Yvonne; four sons and a daughter; and seven grandchildren. He was 74.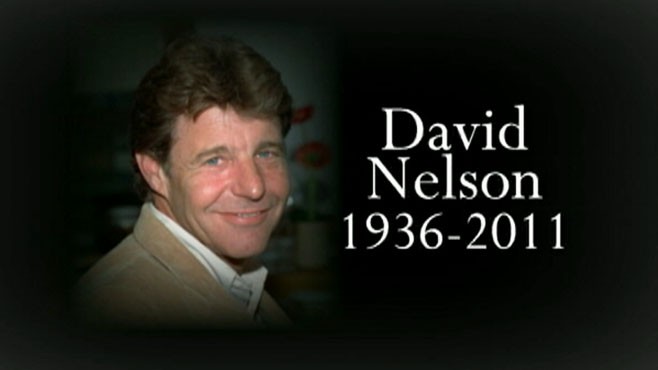 The Nifty 1950s

T

he decade 1950-59 saw many changes in lifestyle affluence and sophistication. Nothing better demonstrates this than comparing automobiles from the beginning and end of this decade. In 1950, American offerings from Chrysler, General Motors and Ford were were evolutionary designs well rooted in the 1940s. By 1959, automobiles from the "big 3" were longer, lower and wider with vast expanses of curved glass. They were ushering the consuming public into the prosperous and optimistic Space Age.
The 1950 Chevrolet Deluxe sport coupe was little changed from its 1949 counterpart.

T

he 1950s saw more significant changes in the Chevrolet than had occurred in any previous decade since the 1920s & 1930s.

T

he big change really started on January 1, 1949. That's when the first truly new body design for Chevrolet was introduced since post World War II. Until 1949 all automobile manufacturers were still building and selling basically prewar cars and trucks, and selling all they could make.

O

ne of the most striking changes in the 1949, 1950, 1951 and 1952 body designs was the noticeably lower hood in relation to the now much higher front fenders.

F

or the 1950 Chevrolet production year which started on January 7, 1950, only slight changes were made to the 1949 cars. Chevrolet took a sound product and refined it's appearance. Clearly looking for an upscale image for all it's new models.

T

he grille was changed in 1950 by eliminating the row of slim vertical bars in the lower part. Compared to the 1949 Chevrolet, enlarged were the round parking lights and the vertical piece beneath the parking light. The vertical piece was also decoratively trimmed with three chevrons. The front bumper guards were also changed on the 1950 Chevrolet model. On the 1949 trunk the T-shaped twist type trunk handle was replaced with a key operated fixed handled on the 1950 Chevrolet cars. Taillight lenses and housings were reshaped and now jutted out slightly.

I

n 1949 a drab tan and brown interior was available on all Specials and Deluxe models. Chevrolet didn't make a very radical switch for the 1950 Chevy cars. They choose equally drab shades of light and dark gray. It wasn't until 1952 did Chevrolet offer some color choices. Image to right is a Deluxe interior, but it still looks plain by today's standards.

C

hevrolet advertising for their new interiors claimed... Five-Foot Seats and Center Point Seating. Center Point Seating was new for 1949 and 1950. Instead of rear seats over the axle, they were re-positioned forward making for a more smoother ride.

T

he same line up of body styles introduced in 1949 was again available in 1950. 1950 was a banner year for 1950 Chevrolet sales and all General Motors sales. There was very little foreign competition, the economy was booming and every General Motors automobile manufacturer had a new postwar car designs in their showrooms.

A

popular magazine ad produced by the Chevrolet Motor Division stated... What a thrill awaits you and your family when you inspect the fourteen magnificent Chevrolet models for 1950. The 1950 Chevrolet cars that are First and Finest At Lowest Cost!
The 1959 Chevrolet
N

ever before had an automobile manufacturer made such sweeping changes two years in a row. The all new 1958 Chevrolet was a pleasant but ho-hum design with rounded edges and the buying public expected it would be around with cosmetic alterations through 1960. But in 1959, Chevrolet, like all General Motors marques, was reshaped with lean, crisp new contours and more restrained chrome accents.

D

esigned for greater roominess and comfort, it was engineered for greater safety, economy, ease of handling and smoothness of ride.

T

he 1959 Chevrolet was the last design by Harley Earl, who headed General Motor's styling and design studio.

A

ll

N

ew

A

ll

O

ver

A

gain declared one 1959 Chevy ad. Nothing's New Like Chevy's New said another. And these statements were absolutely true! Chevrolet's new Slimline Design was fresh, sleek and fashionable. The Roomier Body by Fisher was sound, solid and stylish. Sweeping new overhead curved windshield and bigger windows were made of safety plate glass.

F

ull coil suspension further refined for a smoother and steadier ride. Easy ratio steering reduced wheel turning efforts and "Magic Mirror" finish kept its shine for up to three years. Safer stopping with bigger brakes and deeper drums. And then there were the beefed-up engines!

H

ere is how Chevrolet changed the styling of the 1959 Chevy. The dual headlights, which in 1958 were mounted above the front grille and bumper, have been lowered several inches and were placed at either end of the grille. Above the grille narrow slits looked like air intakes, but were the directional signal lights tucked into the outside corners of these slits.

O

ne outstanding feature was the enormous glass areas, front and rear. The windshield curved way up and into the roof providing tremendous visibility. Out back the 1959 Chevy had a spread-wing treatment and cat's eye taillights. The rear license plate swiveled down to reveal the gas tank filler cap.

T

he new '59 Chevrolet, was nearly two inches longer and wider than the '58, and gained almost 200 pounds (91 kg) of extra weight in the body structure alone. With one of the big engines an automatic transmission and all the accessories including air conditioning. it would tip the scales at about 4,000 pounds (1,820 kg) or more.

I

n October 1958, the 1959 Chevy line-up was on display in dealer showrooms in the USA and Canada. Customers rushed in especially to see the gloriously bat-winged 1959 Chevrolet Impala convertible. The new Impala range took top spot while the Bel Air was moved to second place. The Biscayne replaced the bottom-of-the-line 210 models while the Del Ray line-up and the Yeoman station wagon were dropped entirely. Re-blogged from 1959 Classic Chevrolet
Meanwhile, back in 2011...
The Flight Attendant...
A

guy is sitting in the bar in Departures at a American busy airport. A beautiful woman walks in and sits down at the table next to him. He decides because she's got a uniform on, she's probably an off-duty flight attendant. So he decides to have a go at picking her up by identifying the airline she flies for, thereby impressing her greatly.

H

e leans across to her and says the Delta Airlines motto "We love to fly and it shows."

T

he woman looks at him blankly. He sits back and thinks up another line.He leans forward again and delivers the Air France motto "Winning the hearts of the world." Again she just stares at him with a slightly puzzled look on her face.

U

ndeterred, he tries again, this time saying the Malaysian Airlines motto "Going beyond expectations."

T

he woman looks at him sternly and says "What the fuck do you want?" "'

A

h!" he says, sitting back with a knowing smile on his face. "Air Canada!"
World's Biggest

&

Longest Dead Snake!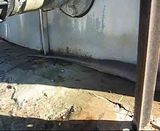 This has to be the world's longest snake ever
found and
thank gawd it's dead! It was discovered at Grootvlei Power Generating Station
in
Balfour
,
Mpumalanga
,
South Africa
. See for yourself.
What lies beneath...
Please copy and paste this into your Facebook status bar...
If you know someone, or have been affected by someone who needs a punch in the face, this is an important message. People who need a punch in the face affect the lives of many. There is still no known cure for someone who deserves a punch in the face, except for a punch in the face. But we can still raise awareness!
Spoooky Reading

To add your comments, click on
here or below. It will take you to a stand-alone copy of this page. There, you will find the comments box, so feel free to let 'er rip.
If you like what you see here
- tell your friends!