~~~~~~~~~~~~~~~~~~~~~~~~~~~~~~~~~~~~~~~~~~~~~~~~~~~~~~~~~~~~~~~~~~~~~~~~~~~~~~~~~~~~~~
The People's Choice
The People's Choice was a 1950s sitcom broadcast on the NBC television network. It was one of those unforgettable series because it featured an unusual gimmick… a dog that talked to the audience. It starred former child star Jackie Cooper.
The People's Choice was the story of a city councilor, Socrates "Sock" Miller, who had frequent run-ins with the city's mayor, John Peoples. These run-ins were aggravated by the fact that Sock's girlfriend was the mayor's daughter, Mandy. Sock had a pet basset hound, Cleo, whose observations were made audible to the audience (but not the cast). As the show developed, Sock and Mandy married (secretly at first), Sock completed law school, and then became a real estate agent, while continuing to serve as a city councilor.
Via iOffer.com
The Reluctant House Guest
Broadcast October 31, 1957
Set in New York City, the series stars Gale Storm (
who was at least 30 at the time
) as 21-year-old Margie Albright and former silent film star Charles Farrell as her widowed father, 50-year-old Vern Albright. They shared an apartment at the Carlton Arms Hotel. Vern Albright was the vice president of the investment firm of Honeywell and Todd, where his boss was George Honeywell (Clarence Kolb).
Honeywell's partner in the firm was played by George Meader. Roberta (Hillary Brooke) was Vern's girlfriend, and Margie's boyfriend was Freddy Wilson (Don Hayden). Mrs. Odetts (played by Gertrude W. Hoffmann on TV; Verna Felton on radio) was the Albrights' next-door neighbor and Margie's sidekick in madcap capers reminiscent of Lucy and Ethel in I Love Lucy. When Margie realized she had blundered or got into trouble, she made an odd trilling sound.
Also in the cast were Willie Best as the elevator operator and Dian Fauntelle. The series was canceled in 1955. Gale Storm went on to star in The Gale Storm Show which ran for 143 episodes 1956-1960.
Via Wikipedia
What's Cooking?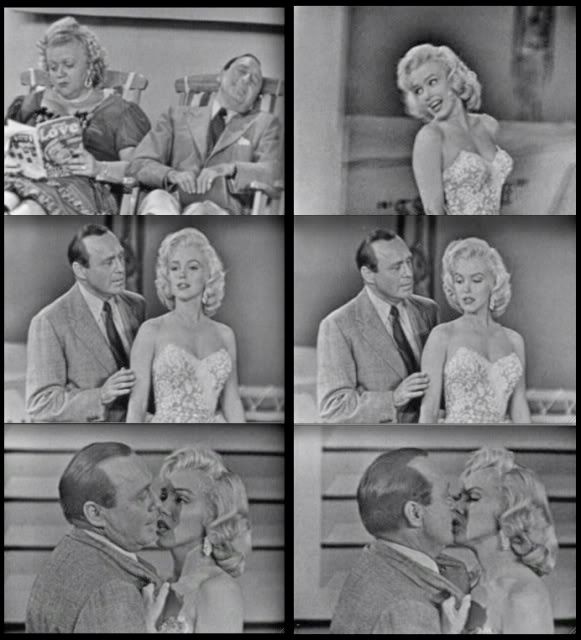 with special guest star
Marilyn Monroe
Jack Benny had his own radio program since 1932. He brought the program, with his underplayed humor, to TV along with his radio regulars. Jack, who eternally remained 39-years-old, kept his money in his basement and drove his old Maxwell car just as he had done on the radio. This was Marilyn's first TV appearance, in 1953, on the Jack Benny show and was a huge success. Marilyn did a live performance of 'Bye Bye Baby' concluding a comedy sketch. Monroe and Benny next met again in 1962, at Madison Square Garden, at President Kennedy's birthday gala, where Marilyn sang 'Happy Birthday Mr. President', and 'Thanks for the Memory.'
Via Wikipedia
The TV p
rogram featured below aired
on September 13, 1953.
Dragnet, syndicated as Badge 714, was a radio and television crime drama about the cases of a dedicated Los Angeles police detective, Sergeant Joe Friday, and his partners. The show takes its name from an actual police term, a "dragnet", meaning a system of coordinated measures for apprehending criminals or suspects.
Via Wikipedia
Full Episode
Alfred Hitchcock Presents was a television anthology series hosted by Alfred Hitchcock. The series featured dramas, thrillers, and mysteries. By the premiere of the show on October 2, 1955, Hitchcock had been directing films for over three decades. Time magazine named Alfred Hitchcock Presents one of "The 100 Best TV Shows of All-TIME"
Via Wikipedia
The Twilight Zone is a television anthology series created by Rod Serling. Each episode (156 in the original series) is a mixture of self-contained drama, psychological thriller,fantasy, science fiction, suspense, or horror, often concluding with a macabre or unexpected twist. A popular and critical success, it introduced many Americans to serious science fiction and abstract ideas through television and also through a wide variety of Twilight Zone literature. Via Wikipedia
The Outer Limits was an hour-long television series broadcast on ABC from 1963 to 1965. The series is similar in style to the earlier The Twilight Zone, but with a greater emphasis on science fiction, rather than fantasy stories. The Outer Limits is an anthology of discrete story episodes, sometimes with a plot twist at the end. All 49 episodes of the original series are available on Hulu.
Via Wikipedia
The late night
Chiller Theatre
double feature!
A mysterious creature from another planet, resembling a giant blob of jelly, lands on earth. The people of a nearby small town refuse to listen to some teenagers who have witnessed the blob's destructive power. In the meantime, the blob just keeps on getting bigger and bigger. Starring Steve McQueen
.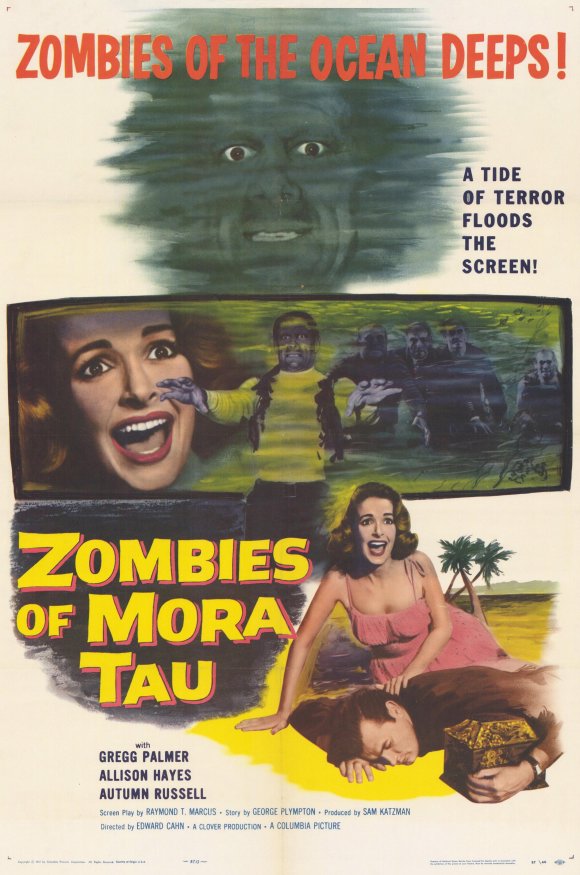 Zombiefied sailors guard the treasure of a ship they went down with 60 years earlier. A group of sailors scoff at the legend, and decide to retrieve the diamonds from the ocean floor only to discover the hard way that there is some truth to legends.
A preview of next week's main feature...
Click image
To add your comments click on
It will take you to a stand-alone
There, you'll find the comments box,
so feel free to let 'er rip.
What lies beneath...
For all you keen gardeners out there...
These are actual peppers from a garden.
And, they really are called 'Willy
Peppers.'
The farmer says they can grow up to 18" long!
Sort of brings tears to your eyes doesn't it?