~~~~~~~~~~~~~~~~~~~~~~~~~~~~~~~~~~~~~~~~~~~~~~~~~~~~~~~~~~~~~~~~~~~~~~~~~~~~~~~~~~~~~~~
10 Real Flying Saucer Designs Made Here on Earth
Posted on Pakalert
on June 25, 2011
W

e've got a list of ten flying saucers for you, each of which made it far enough out of someone's imagination that at the very least a proof of concept was constructed. No blurrypictures that may or may-not-be-streetlights here: these are all real designs that actually existed.
MORE HERE
'Forbidden Planet's' lost saucer reappears
In 2008, after 38 years, a "lost" Hollywood artifact with a truly cosmic history resurfaced and, no surprise, it headed straight for the auction block.
O

n December 11, 2008, the iconic flying saucer from the 1956 MGM classic "Forbidden Planet" was auctioned off in Calabasas Hills and fetched a tidy $120,000 for its owner, a North Carolina man who had the prop stored in his garage and didn't realize its market value.
T

he silver saucer is 82 inches in diameter and constructed of wood, steel and fiberglass and, according to the Profiles in History auction house, it is "a marvel of 1950s engineering." That's because "the central landing base extends from the bottom of the craft by internal movement mechanisms with electric motor drive, as does the ladder and two conveyor-loading ramps."
T

he miniature was the chief prop used to create the memorable screen images of United Planets Cruiser C-57D in the landmark sci-fi film that loosely reworked Shakespeare's" The Tempest" and starred Walter Pidgeon, Anne Francis, Leslie Nielsen and Jack Kelly. The film made a major sci-fi imprint on mid-century pop culture and was a major inspiration for "Star Trek" creator Gene Roddenberry, and was paid homage by filmmaker George Lucas, who borrowed a line of its dialogue for "Star Wars"
T

he saucer ended up in the busy MGM prop department and was used for a half a dozen episodes of "The Twilight Zone," including the memorable "To Serve Man" episode. Then, around 1970, it was sold off at a studio auction, but there was no record of who bought it.
"

I

t just disappeared, essentially," said Joseph Maddalena, owner of Profiles in History. "This is a major piece of film history, an item that collectors all over the world would instantly want to possess, and it was gone."
T

he saucer ended up hanging in the garage of a North Carolina man who decided recently to find out what the old model might be worth. Even after hearing the that it might fetch six figures on the open market, he had no plans to sell it — but that changed when he mentioned the dollar amount to his wife. "He called back a few days later," Maddalena said, "and explained that his wife was making him sell it."
A pretty damn long time, kids!
The 1959 Philco Predicta.
It was the future in glorious black and white.
Why did it never catch on?
1960s cool bachelor pad's bedroom,
obviously designed for seduction.
What are the odds that the bed rotates?
...About 100%!
Via Ретрофутуризм/Retrofuturism
Beep Beep!


Via Confessions of a She-Fan
"We are Siamese if you please"


Si and Am - Lady And The Tramp (1955)


Via Retrogasm
"We are Siamese if you don't please"




Si and Am - Lady And The Tramp (1955)


Via Retrogasm
Oldsmobile Starfire XP Rocket
1952 design by Art Ross
A 1935 vision of 1965


Via FB/CDN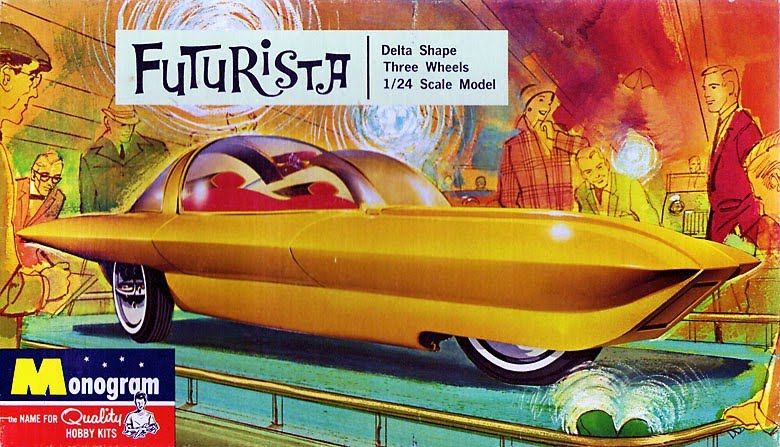 Volkswagen Futurista
Via Ретрофутуризм/ Retrofuturism
Scrivner's Drive-In Restaurant


Los Angeles - c. late 1930s
Via Moth Girl
The Time
Tunnel
Stupid science teamed with bad special effects...
Via Space Splatter
I don't know about you, but it came as a complete surprise to me to discover that, for a time, Michael Jackson and his family lived in a home designed by noted west coast architect, Mike Brady.
Photo Via Property Management Daily
Gossip - 1948
Via Democratic Underground
Here's a rad, new idea for a party…
Come on over to my house, everyone!
We're going to watch choir boys
on my 3-inch black and white DuMont TV!
...Inn
nnn
FORMAL WEAR!
Picture & Caption Via Mad Vortex
A girl who is a product of her time...
Seems like she has it all just about covered.




But if she lands him, in 10 year's time, she may be so tired of Dick she'll start chasing sna...




Oh, never mind.


Image Via Suffering Fools Badly
To add your comments click on
Links to this post
here or below. It will take you to a stand-alone copy of this page. There, you'll find the comments box, so feel free to let 'er rip.
What lies beneath...

Buy it here!