To add your comments, click here

.
Even down on the farm - Green Acres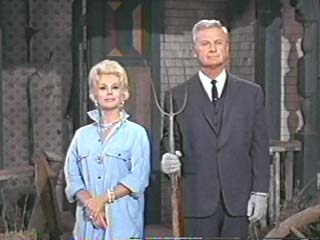 Green Acres Intro
Green Acres

was about Oliver Wendell Douglas (Eddie Albert), an accomplished and erudite New York City attorney, acting on his dream to be a farmer, and Lisa Douglas (Eva Gabor), his glamorous, bejeweled Hungarian wife, dragged unwillingly from the privileged city life she adored to a ramshackle farm. The debut episode was a mockumentary about this big-city attorney's decision to move to a rural area, anchored by former ABC newscaster (and then current host of the CBS game show What's My Line) John Charles Daly. A few weeks after the show's debut, Albert and Gabor returned the favor by appearing on What's My Line as that episode's Mystery Guests, and publicly thanked Daly for helping to launch their series.
A

fter the first episodes the series shifted from a run-of-the-mill rural comedy, developing an absurdist world. Though there were still many episodes that were standard 1960s sitcom fare, the show became notable for its surreal aspects that frequently included satire. They had an appeal to children for the slapstick, silliness, and shtick, though adults were able to appreciate it on a different level.
M

ister

E

d

was a half hour TV situation comedy produced by Filmways. It first aired in syndication from January 5 to July 2, 1961, and then on CBS from October 1, 1961, to February 6, 1966.
T
he stars of the show were Mister Ed, a
palomino
who could talk, "played" by
gelding
Bamboo Harvester
. Ed was voiced by
Allan Lane
, and his owner, an eccentric, enormously klutzy yet friendly architect named Wilbur Post, was portrayed by Canadian actor
Alan Young
.
M

uch of the program's humor stemmed from the fact Mister Ed would speak only to Wilbur, as well as Ed's notoriety as a troublemaker. According to the show's producer, Arthur Lubin, Young was chosen as the lead character because he "just seemed like the sort of guy a horse would talk to." Lubin, a friend of Mae West, scored a coup by persuading the screen icon to guest star in one episode.


I

n the United States, reruns aired on Nick at Nite from March 3, 1986, to February 1, 1993. Sister station TV Land also reran the show from 1996-98 and again from 2003-06. The series is currently broadcast every morning on This TV, along with sister series The Patty Duke Show. As of January 1, 2011, the first two seasons of the show are available on Hulu.
The most common species of domesticated hedgehog is the African Pygmy hedgehog, a hybrid of the White-bellied or Four-toed Hedgehog (Atelerix albiventris) and the Algerian Hedgehog (A. algirus). It is smaller than the European Hedgehog, and thus is sometimes called African Pygmy Hedgehog. Other species kept as pets are the Egyptian long-eared hedgehog (Hemiechinus auritus auritus) and the Indian long-eared hedgehog (Hemiechinus collaris).
Hedgehog domestication became popular in the early 1980s. They still have much of their wild behavior, including a fear of predators — especially humans, but buying from a responsible breeder and proper handling will do a lot to ensure a friendly relationship. Since domestication began, several new colours of hedgehogs have been created or become common, including albino and pinto hedgehogs.
Domesticated species prefer a warm climate (above 22 °C , 72 °F) and do not naturally hibernate. Attempts to hibernate due to lowered body temperatures can be fatal, but are easily reversed if caught quickly (within a few days). In the wild they eat a diet of mainly insects, but pet owners generally prefer a diet composed primarily of high protein low fat high quality cat food, with regular treats such as mealworms, fruits, vegetables, and cooked unseasoned meats. Much more about hedgehogs can be found on Wikipedia.
1961 Chevrolet Impala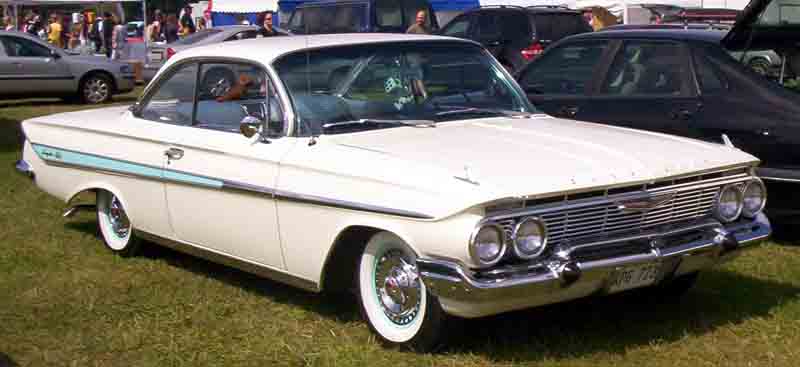 All 1961 Chevrolet Impalas had bodyside sweepspears and triple taillights.
T
he
1961 Chevrolet Impala
was destined to become one of the most memorable Chevrolets of the 1960s by mixing full-size luxury with sport, although few realized it as the model year opened. Mid-season not ­only brought a Super Sport option for the Impala, but the legendary "409"
engine
as well - soon to be immortalized in song by Brian Wilson and The Beach Boys.
P
riced at $5,380 ($39,570.00 in 2011 dollars), the Super Sport was promoted as the "highly personalized version" of Impala body styles. The option group included simulated knock-off wheel covers, heavy-duty springs and shocks, metallic brake linings, padded instrument panel, a Sun 7,000-rpm tachometer on the steering column, and 8x14 narrow-band whitewall tires. The front passenger faced a grab bar, not unlike that in Corvettes, but all occupants resided on bench seats.
1961 Chevrolet Impala SS Hardtop Coupe
-
All 1961 Chevrolet
Impalas had bodyside
sweepspears and triple taillights.
S
uper
S
ports could have any of three versions of the 348-cubic-inch V-8 engine, with 305 to 350 horsepower
. Those ordered with a four-speed earned a special floor-mounted gearshift with a sharply bent lever. Powerglide was limited to the mildest mill. Only 453 Impalas had the SS option, most of them Sport Coupes. Just 142 of those held the big 409-cubic-inch engine. Available in no other model, the 409 breathed through a dual-snorkel air cleaner to whip up 360 horsepower and 409 pounds-feet of
torque.



The 1961 Chevrolet Impala had color-coordinated upholstery and body colors.




T

he SS aimed at "customers who like sports car flair and go, teamed with big car elegance." With a 409 and 4.56:1 axle ratio, an Impala SS could hit 60 mph in seven seconds. Three Impala rooflines were employed this year, including a Sport Coupe with gently sloping front pillars and plenty of glass.

F

or 1961, Impalas still were not devoid of gaudiness, with creased bodysides, tapered trim strips, and sculptured rear decks, they glitered almost as much as their 1960 counterparts. They also wore deluxe wheel discs, plus wide body side moldings with contrasting insert panels.




C

hevrolet declared Impala "unquestionably the finest car in its field." Production was almost identical to the 1960 total, at 491,000 units -- including 64,600 convertibles.
(
美空
ひばり)
, May 29, 1937 – June 24, 1989) was an award-winning
Japanese
enka
singer
and
actress. and was the first woman in Japan to receive the People's Honour Award
, which was awarded posthumously for her notable contributions to the music industry. Misora recorded 1,200 songs, and sold 68 million records. After she died, consumer demand for her recordings grew significantly, and by 2001 she had sold more than 80 million records.
Much more about Misora Hibari is found on
Wikipedia.
I know it's soppy but here it is anyway...
These are my 2nd half
of 2011 wishes for you...
May you ALWAYS make the right move.
May your cup runneth over with love.
MAY YOU ALWAYS FIND SHELTER FROM ANY STORM.
May you remain good looking and looking good.
May you find the perfect diet for your body and your soul.
May you find perfect balance in the company you keep.
May you have as much fun as you can before someone makes you stop.
May the worst thing that happens to you come in slobbery, pink and furry TAN.
May you manage to MAKE time for Time Out!
May all the new folks you meet be interesting and kind.
May you always know when to walk away….. and when to
RUN
!
AND MAY YOUR FRIENDS & FAMILY ALWAYS BRING YOU JOY.
It will take you to a stand-alone copy of this page.
There, you'll find the comments box, so feel free to let 'er rip.
What lies beneath...



This is something we all should read pretty darn often!!!
The 45 lessons of life...
1. Life
isn't fair, but it's still good.
2. When in doubt, just take the next small step.
3. Life is too short to waste time hating anyone. Change the way you think.
4. Your job won't take care of you when you are sick. Your friends and family will. Stay in touch.
5. Pay off your credit cards every month..
6. You don't have to win every argument. Agree to disagree.
7. Cry with someone. It's more healing than crying alone.
8. Release your children when they become adults, its their life now
9. Save for retirement starting with your first pay cheque.
10. When it comes to chocolate, resistance is futile.
11. Make peace with your past so it won't screw up the present.
12. It's OK to let your children see you cry.
13. Don't compare your life to others. You have no idea what their journey is all about.
14. If a relationship has to be a secret, you shouldn't be in it.
15. Everything can change in the blink of an eye.
16. Take a deep breath It calms the mind.
17. Get rid of anything that isn't useful, beautiful or joyful.
18. Whatever doesn't kill you really does make you stronger.
19. It's never too late to have a happy childhood. But the second one is up to you and no one else.
20. When it comes to going after what you love in life, don't take no for an answer.
21. Burn the candles, use the nice sheets, wear the fancy lingerie. Don't save it for a special occasion. Today is special.
22. Just because you believe you are right, doesn't mean you are. Keep an open mind.
23. Be eccentric now. Don't wait for old age to wear purple.
24. The most important sex organ is the brain.
25. No one is in charge of your happiness but you.
26.. Frame every so-called disaster with these words 'In five years, will this matter?'
28. Forgive everyone everything.
29. What other people think of you is none of your business.
30. Time heals almost everything. Give time time.
31. However good or bad a situation is, it will change.
32. Don't take yourself so seriously. No one else does.
34. Your job is to love your children, not choose who they should love.
35. Don't audit life. Show up and make the most of it now.
36. Growing old beats the alternative -- dying young.
37. Your children get only one childhood.
38. All that truly matters in the end is that you loved.
39. Get outside every day. Miracles are waiting everywhere.
40. If we all threw our problems in a pile and saw everyone else's, we'd grab ours back.
41. Envy is a waste of time. You already have all you need.
42. The best is yet to come...
43.. No matter how you feel, get up, dress up and show up.
45. Life isn't tied with a bow, but it's still a gift.