~~~~~~~~~~~~~~~~~~~~~~~~~~~~~~~~~~~~~~~~~~~~~~~~~~~~~~~~~~~~~~~~~~~~~~~~~~~~~~~~~~~~~~
Je cherche un millionaire, avec un grand Cadillac car, mink coat, des bijoux et une petite yacht.
Ya get what I mean, don't cha?
Now, on the upper side of the crust...
Lawton so enjoyed the drama
of two dames dueling
for his affections...
But
Myrna
already'd had enough of it.
She knew Lawton and Dagmar would get a big bang out of her latest centre piece design.
Coincidentally, Dagmar also had a special surprise for
Myrna
.
Meanwhile at the Estate Next Door...
Maxim was completely oblivious to the drama
unfolding right under his nose.
And, Chantelle was too 'happee' to notice the skullduggery afoot. "Des bijoux sont a girl's best friend, n'est pas?" she giggles. "Maxim eeez such a generous 'usband!"
But the plot is thickening. Felicity has grown tired
of this Jane Eyre routine. Maxim would be hers, no matter what! A special coffee for Chantelle, coming up!
Meanwhile, Lola patiently waits for Maxim's call.
And now, here's something quite practical...
Sweet Baby Jane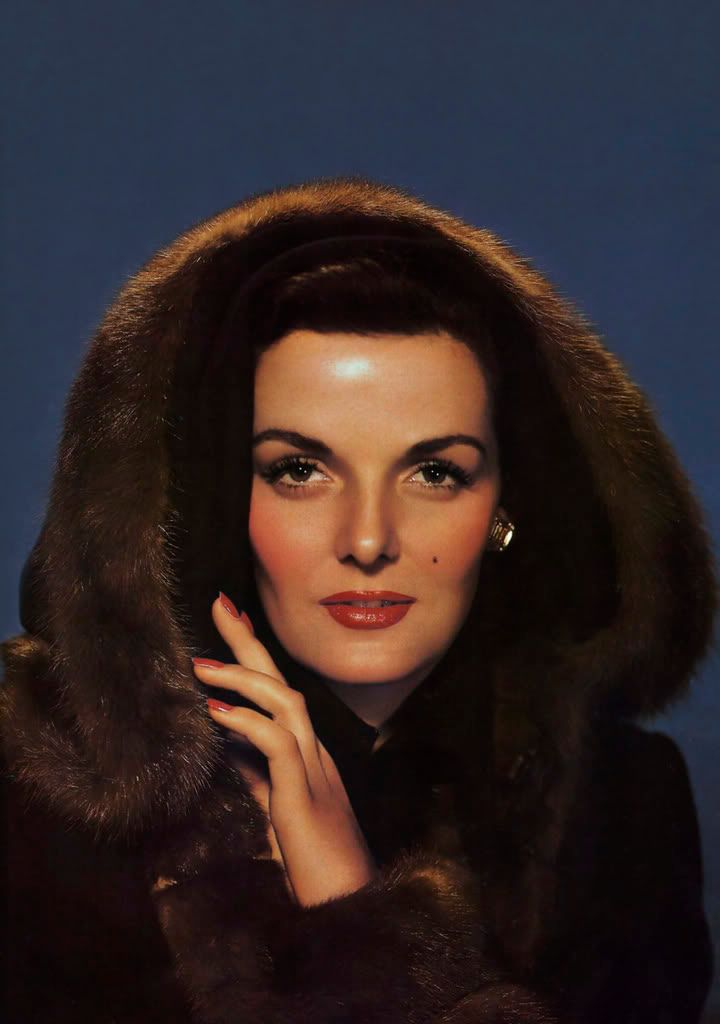 Jane Russell led the list of the most underrated beauties of the screen. Maybe it was having a big bust

but

being a brunette, you got the feeling Jane was real people. She kept a sense of humor about all that was made of her bust size, never bought her own publicity and surprised everyone by turning into an important good samaritan. She adopted 3 children and went on to found World Adoption International Fund (WAIF), an organization that pioneered adoptions from foreign countries by Americans. Still, we love to remember these taglines used in her movie posters and publicity:
"How'd you like to tussle with Russell?" -
The Outlaw
- 1943
"Jane Russell and Frank Sinatra...What a pair!" -
Double Dynamite
- 1951
"They were two of a kind!" -
His Kind of Woman
- 1951
"Warm Lips...Hot Lead!" - Montana Belle - 1952
"The Two M-M-Marvels of our Age in the Wonder Musical of the World!" -
Gentlemen Prefer Blondes
- 1953
"Jane Russell in 3-D. It'll Knock both your eyes out!" -
The French Line
- 1954
"Skin Diver Action...Aqua-lung Thrills!" -
Underwater!
- 1955
"They Don't come any BIGGER" -
The Tall Men
- 1955
"Jane's Got Jeff! The Story of an Impatient Love!"

-
Foxfire
- 1955
"See 'Em Sizzle in the Big, Buxom, Beautiful Musical!" -
Gentlemen Marry Brunettes
- 1955
"
Jane Russell shakes her tambourines and drives Cornel Wilde!" -
Hot Blood
- 1956
"The hottest bundle ever hijacked!"
The Fuzzy Pink Nightgown
- 1957
To add your comments click on
Links to this post
here or below. It will take you to a stand-alone copy of this page. There, you'll find the comments box, so feel free to let 'er rip.
It's Bonnie & Clyde's 1st birthday and Shadow is jealous!
Nothing lies beneath...