~~~~~~~~~~~~~~~~~~~~~~~~~~~~~~~~~~~~~~~~~~~~~~~~~~~~~~~~~~~~~~~~~~~~~~~~~~~~~~~~~~~~~~
W
e're not interested in love matches here, people. This is all about that other kind of chemistry - and which signs of the Zodiac are guaranteed to be a good time and the ones which might be a great time.
I
've always had great luck with Capricorns. Tauruses? Yawn. Geminis? Maybe, if you like all that talking. Leos? Self-absorbed drama queens.
M
y romantic history is a constellation of personalities and capabilities and experiences, but there's obviously something about my Virgo sensibilities that jibes with the patience that the average Capricorn bestows upon the act of tossing one's salad. Or did you think I was talking about something else?
Aries: The Minute Man
This fire sign is known for being a pretty 'straight' shooter. Aries will have no compunction at all about sharing his or her raunchiest ideas about what to do in the sack. The problem with straight shooters, though, is that they always like to get right to the point. So count on an Aries to take charge and get you where you want to go — in a hurry.
Where Aries is all lusty impulse, Taurus takes his or her time. Plan on being wined and dined — perhaps to the point of frustration. And once the Taurus has decided you're the one for the job, prepare yourself for plenty of foreplay. If romance is your thing, Taurus is your sign.
Gemini: The Talker
The Gemini will bring all his or her intellect to bear upon getting bare. If you have simpler, quieter tastes, you might be a little shocked by Gemini's saucy, seductive monologues. But if phone sex and dirty talking gets your motor humming, a Gemini is what you're looking for. But be prepared to not get a word in edgewise.
Cancer: The Love Maker
Cancers are highly emotional signs, which means that sex is not merely a mechanical physical undertaking; rather it is expected to be a poetic act of beauty and love and all that good stuff. If you're going to get naked with a Cancer, prepare yourself for an intense ride. And perhaps some post-coital crying.
Leo: The Narcissist
The passionate and adventurous nature of the Leo cannot be surpassed. There is no end to the imaginative ways a Leo will come up with for you to pleasure him or her. Those cats are born sexual dominants who ooze lusty confidence, and they're unapologetic about it. While your romp with the lion will be memorable, for sure, best remember your satisfaction will be a secondary matter.
Virgo: The Closet Nympho
You might be surprised to learn that shy, demurring Virgo would ever be ready to rock without than fistfuls of condoms and spanking clean bed sheets. The reserved demeanor of the earthy virgins doesn't hint at their inner lustiness. Once your Virgo knows and trusts you, watch out. You won't get a moment's peace.
Libra: The Connoisseur
The Libra is an artiste when it comes to knocking boots. They seek out a perfect harmony with their partner, luxuriating in every detail, and they go big on romantic accoutrements such as lingerie, massage oil, and soft music. You know, so it's just like a bad porno—perhaps it even includes a fortuitously timed visit from the pizza guy.
Scorpio: The Leg-Humper
Fiery, licentious Scropio is the horn dog of the zodiac. While their sexual prowess and magnetism can hardly be ignored, getting in bed with a scorpion can have its sting. While you will probably get the ride of your life, Scorpio's love 'em and leave 'em approach to sex could leave less lusty signs cold.
Sagittarius: The Don Juan
(or Juanita if you swing that way)
A master of the art of seduction, a Sagittarius is all about the hunt. They hone their powers of seduction, pouncing upon their objects of desire only after rendering them utterly helpless in the face of their sexual deftness.
Wonder what the other zodiac signs look like!
Capricorn: The Slow Boat
Capricorn can come across as a lumbering kind of lover.
Slow to make the first move, patient to the point of impertinence once the ball does get rolling, Caps may not wow with skill and energy in the sack, but they will steadily, diligently apply themselves to the all-you-can-eat buffet of their lover. Be patient with a Capricorn, and you will be well rewarded.
Aquarius: The Toy Collector
If you're someone who is put off by the idea of a velvet box full of scintillating, slippery, and battery-operated accoutrements under your lover's bed, it's best you steer clear of Aquarius. Always ready to experiment with any number of the paths to pleasing themselves and their partners, the Aquarian will bring more to the party than some signs can take.
Pisces: Old Faithful
Much like Cancer, Pisces will value the emotional connectivity of sex over the physical one. Passion, love, attention, patience—these will all come into play with your Pisces lover. But you'll likely have to do most of the work. The fish are notoriously lazy lays, preferring to kick back and bask in the attentions of their beloved. Might want to take a cue from Aquarius and bring some party favors to keep things interesting.
Some people find it
Some people find it mesmerizing
How Cruise Lines Fill
A
ll Those Unsold Cabins
A

luxury cruise is one of life's pure joys. Today's modern cruise liners are engineering marvels; floating 5-star hotels that offer the best service, accommodation, cuisine, and activities. They visit exotic locales, with non-stop relaxation or stimulation, depending on your pleasure.
O

ver the past few years, cruise companies have spared no expense and literally invested billions in jaw-dropping super ships. Even if you've cruised before, you probably have not experienced anything like these new marvels.
But, the best news is that due to the slowdown in travel caused by the recession and significant overcapacity in the industry, savvy travelers can now book once-in-a-lifetime cruises at insanely low prices.
H

ow does 80 percent off the brochure price sound? Believe it or not, it's possible through a company called Vacations To Go, one of America's Largest Cruise Agencies.
Founded more than 25 years ago, Vacations To Go realized that taking a cruise vacation was a new experience for many. They set out to build an online service to help people learn everything they need to know to find the best possible cruise vacation, at the best possible price.
V

acations

T

o

G

o is now home to an extensive selection of top-brand cruise vacations, and in-depth information about every cruise line and cruise ship. Customers can browse the latest in new promotions and offers, shop by category, and compare prices at a glance.
B

ut, what about the discounts?
B

ecause of the huge costs involved in building and operating today's luxury ships, cruise lines want their ships to sail with as few empty cabins as possible.
S
o, they turn to trusted partners like
Vacations To Go
to sell this "excess" inventory at deep discounts, allowing the cruise companies to still get full fare on the travel packages that they sell directly.
T

he discounts they authorize Vacations To Go to offer can be as much as 80 percent off the full price fare. What it means for you: Simply put, it is the opportunity to take a once-in-a-lifetime luxury cruise for a price that makes it affordable on any budget.
V
acations
T
o
G
o has also developed a Best Price & Service Guarantee that guarantees they will meet any other authorized price - so, if getting the best deal is important, look no further.
I

f you are not ready to book your cruise immediately, signing up for

Vacations To Go

's free newsletter can help you stay informed of all the spectacular discounts that become available, as cruise lines seek to fill their remaining empty cabins before their cruises depart.
T

his year, it seems like everyone is cruising - and, for good reason. After several years of austerity, people are realizing that a cruise vacation is now one of the great values in travel.
- by Neal McKenna
W
hen you hear the names "Mombasa," "Nairobi," or simply "Kenya," what comes to mind? Swaying palms and moonlight? Steaming jungles at sunrise? Sun-soaked sandy beaches? Safaris on the savannah? Sprawling colonial mansions? Most certainly, all these can be found in the multi-faceted country called Kenya. But perhaps – if your tastes lean toward the more sensual – the phrase "white mischief" might come to you.
S
even decades ago, Kenya was truly the land of white mischief! It was a prime destination for affluent British expatriates and down-on-their-luck aristocrats who wanted to live large on a dwindling fortune. Today, Kenya remains the place to visit – but for people like you and me! And, the good news is: you still can live large – even with a less than aristocratic vacation budget.
S
o, let's start with getting there. One of the most economical and comfortable ways to reach Kenya is flying
Kenya Airways. The flight from Johannesburg to Nairobi takes slightly under four hours and balmy Mombasa is just another 40 minutes away as the crow flies. The bottom line is: a junket to Mombasa from anywhere in South Africa is an all-day affair. However, it is well worth the effort especially when your destination is a 5-star Serena Hotel.
S
erena Hotels are located in some of the world's most exciting and exotic destinations. Each is tailored to be unique and unforgettable – whether it's a luxury safari camp, a
deluxe
hotel or one of their
sumptuous
resorts. B
uilt upon a coral cliff overlooking the beach, Mombasa's
Serena Beach Hotel & Spa
provides all the creature comforts in high style. A
menities include a swimming pool, fitness centre, spa/massage centre, meeting facilities, two restaurants on the hotel grounds, a p
iano bar,
tennis courts,
windsurfing, deep-sea fishing, catamaran sailing,
scuba diving, snorkeling as well as a great deal more. – And, there
'
s even babysitting if you require it. One hundred and sixty-four rooms and suites are available on no more than two levels above ground and many are wheelchair accessible.
D
esigned to evoke a 13th century Swahili village,

the several buildings comprising the Serena Beach Hotel complex are joined by

winding lanes, fountained courts and bustling market squares. Set back from the white sands and saltation waters of the Mombasa National Marine Park, the hotel décor blends the intricacy of Swahili carvings with the beaded glow of Arabian lanterns. At any time of day, the place takes on the gleaming-white splendour of a Sultan's palace as well as the lotus-cool of a Persian water garden.
T
o accurately describe the scenery at Serena Beach Hotel, Mombasa is a truly difficult thing to achieve. However,
Karen Blixen
came very close to doing so when she wrote the following in her novel, "
Out of Africa
:" "
The sea at Mombasa is as blue as a cornflower, and, outside the inlet to the harbour, the long breakers of the Indian Ocean draw a thin crooked white line, and give out a low thunder even in the calmest weather
."
T
he expansive hotel grounds are cooled by swaying coconut-palms as well as an exotic mix of tropical trees and bright blossoms. All this centres upon an idyllic sky-blue swimming pool with a thatched 'swim-up' bar. For many, this feature alone creates a Heaven on earth! To be succinct, the

Serena Beach Hotel

provides an oasis of tranquility while delivering a unique mix of high-action water sports, indulgent sun worship, world-class cuisine and a vibrant nightlife. N

ightly entertainment includes live bands, discos, acrobatic & gymnastic displays, traditional dancing and occasional fashion shows
.
O
ff the resort, there are numerous ways to fill your days with shopping, cruises and historical tours. Modern-day Mombasa is centred on Mombasa Island, but extends to the mainland. The busiest port in East Africa, it is also the largest coastal metropolis in Kenya. Hot, humid and bustling, it is a city with its own unique style. Here, you get a true sense of the "real" Africa. Streets are crowded with people and vehicles of all descriptions – including 3-seat "auto-rickshaws" from India. Traffic is absolutely insane – even by Johannesburg standards – so let a tour bus driver do the chauffeuring for you.
D
ating back to before 1150 A.D., even then it was a major seaport involved in the spice and ivory trade. Old Town Mombasa, with its narrow, winding streets and busy markets, has a distinct Arabic flavour. Here, you will find emporiums, mosques, coffee houses, the fish market and the old dow harbour. Driving north or south on Mombasa Island takes you to the lush coastal forests and sandy beaches. Driving to the near-by Shimba Hills National Reserve will provide close encounters with sable antelope and elephants.
W
alking the battlements of old Fort Jesus quickly takes you back to the 16
th
century. Views in every direction are amazing.
Built in 1593, by order of King Philip II of Spain, then ruler of the joint Portuguese and Spanish Kingdoms, the fort was a major foothold in East Africa until 1728 when they were driven out by an Afro-Arab siege. Constructed in the shape of a man – when viewed from the air – it was designed by Italian architect, Jao Batisto Cairato. Today, this structure exists as one of the finest examples of 16
th
century Portuguese military architecture in the world.
T
he fort quickly became a vital possession for anyone intending to control Mombasa Island or the surrounding areas of trade. When the British colonised Kenya, it was used as a prison until 1958. At that time, the fort finally became an historical monument. Brooding and poignant, Fort Jesus is now a popular destination for foreign and local tourists where you can have dinner within the battlements. Besides being a tourist destination the fort now plays an important role in hosting numerous research programmes, a conservation lab, an education department and an Old Town conservation office.
T
he
Mombasa National Marine Park and Reserve is a gigantic 200 km² in total. It is situated adjacent to numerous tourist areas including
the Serena Beach Hotel. With massive coral reefs in its waters, it
is an extremely popular beach for swimming, snorkeling and scuba diving.
Both the park and reserve are the most highly utilised of marine protected areas in al of Kenya.
Various agents offer boats for hire to get into the marine park and numerous vendors are there to ply their wares along the beach.
Glass-bottom boats take visitors to the nearby coral reefs and d
iving gear is always available from the many water sports desks.
C
ruising aboard an authentic Arab Dhow named
the
Nawalilkher
is something not to be missed.
It is the largest dhow on the Kenyan coast and
departs from the Tamarind jetty, in Mombasa. Lunch or dinner cruises, both considered half-day trips, are available. Afternoon excursions include a leisurely sail up the river complete with acrobatic displays, henna tattoo painting and lots of relaxation along with the aforementioned lunch. This particular journey culminated with a visit to reptile exhibit where the brave can interact with Galapagos turtles, large pythons and baby crocodiles.
T
he evening cruise around the old port of Mombasa Town is the most renowned of all the coastal excursions.
As soon as you step off the gangplank, you are met by a traditionally-dressed waiter who shows you to your table. Next, you are served a house cocktail made of vodka, lime, honey, sugar and crushed ice. Once the dhow departs from the jetty, the band begins playing and soon the swinging sounds have the majority of guests dancing on the main deck.
F
ollowing
a cruise around Tudor Creek with excellent views of Mombasa's Old Town and Fort Jesus, your dhow moors in a sheltered bay at the head of the creek. This is when the chefs pull out the charcoal grills and prepare a gourmet four-course meal. The delectable aromas of grilled lobster and steak soon fills the air. As your meal draws to a close, waiters serve aromatic Arabica coffee from the Kahawa, a traditional Arab brass pot. After that, it's time to return to your hotel to conclude your romantic evening. There is a lot to be said for moonlight on the balcony under swaying palms!
B
eyond these must-see-and-do activities, t
here are o
n-land and sea bird-watching tours on motorised canoes as well as exploring near-by uninhabited islands. There are the ancient Shimoni slave caves which served as holding pens for thousands of slaves captured deep within the hinterland. There, they awaited trans-shipment to the infamous Zanzibar slave market for onward
consignment
to Arabia.
T
oday, Shimoni is an important tourist haven and a busy fishing village. It is, as well, a direct beneficiary of the old slave-trade business. According to the National Museums of Kenya, Shimoni developed into what it is today from the influx of interior residents running away from the slave hunters.
W
ithout a doubt there is plenty to keep a visitor busy in Mombasa.
But the question begs to be asked: how welcome are gay travellers in Kenya? Well, it seems gays - and I use the term to cover its many variants - are very well
received
, in spite of the country's anti-homosexuality laws.
"
G
ay couples are certainly most welcome
at the Serena Beach Hotel,"
says
Alan Igambi, the hotel's Deputy General Manager.
"They can check in to a double bedded room and we would heartily give them our best hospitality." From that, you may rest assured you and your main-squeeze can cohabit the same bed without fear of retribution.
W
ith that said, out-of-country gay travelers shouldn't opt to overtly "camp it up." The use of discretion is still advised since Kenya is essentially a Muslim country. But with a bit of common sense, your trip to Mombasa or anywhere else in Kenya will be hassle-free and the stuff of fond memories.
But before you go...
A
ll
travel documentation should be kept together securely. This includes tickets, passports – with appropriate visa entries – vaccination certificates, and travel insurance documents. South African passport holders do not require visas to enter Kenya. However, absolutely everyone else will require entry documentation. Visas cost $50 US – preferably paid in cash – and can be obtained upon arrival in Kenya.
·

All visitors to Kenya should pre-purchase comprehensive holiday/medical insurance before traveling. Coverage up to $1,500,000 can be purchased at your local travel agency for as little as $30 per person and family plans are available.
·

Kenya lies within the "yellow fever zone," so you must prove you have been properly inoculated. Bring your yellow fever certificate! Mombasa is also located in the "malaria zone," so prior to your trip, you might consider taking prophylactic meds such as Malanil – and definitely, bring along a really effective mosquito repellent! And finally, if you are currently on personal prescription drugs, be sure to bring an adequate supply.
More about White Mischief...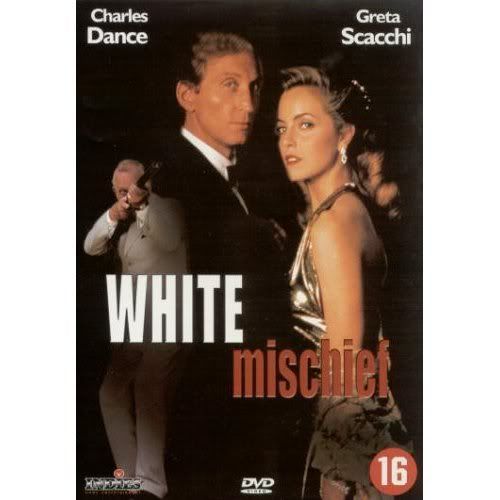 I
f you plan to
sizzle in the sun
on the beach or by the pool, why not take along a copy of "White Mischief?" It will make stimulating and steamy reading as it steeps you in local legendary history. Written by Britisher, James Fox, the book reveals and revels in the details of the 1941 "Happy Valley murder case." Here, you get a glimpse of how upper-crust settlers of
70 years ago
lived and behaved in colonial Kenya.
I
t's a first-class, factual detective story and it is absolutely numbing in it's candid vulgarity! Located just outside Nairobi, Happy Valley still exists in modern-day Kenya.
The book can be found on Amazon.com and Alibris.com.
White Mischief is also a deliciously sexy 1987 film, starring Charles Dance and Greta Scacchi.
The film also features
a very young Hugh Grant in a bit part.
W
hite Mischief deftly
dramatises the events leading up to
the murder of
Josslyn Hay, 22
nd Earl of Erroll
, and the trial of Sir "Jock" Delves Broughton, the accused trigger man.
Finally, in 2007, the mystery was solved within reasonable doubt and the prime suspect was declared the man who who murdered Hay
in 1941.
To add your comments click on
It will take you to a stand-alone
copy of this page.
There, you'll find the comments box,
so feel free to let 'er rip.
What lies beneath...
The battle of the social networks